February 23, 2022 (MLN): After witnessing a choppy session yesterday, the Pakistani rupee (PKR) managed to gain 7 paisa against the US dollar on Wednesday in the interbank market as the currency closed the trade at PKR 176.16.
On Tuesday, the local unit had settled the trade at PKR 176.23 per USD after losing 48 paisa.
The rupee endured a relatively dull trading session with very little intraday movement, trading in a range of 15 paisa per USD showing an intraday high bid of 176.25 and an intraday low offer of 176.15.
According to Asad Rizvi, the former Treasury Head at Chase Manhattan, "Long weekend in New York lead to mild weakness in PKR while Russia-Ukraine tension is certainly a dominant risk factor."
The global market is waiting for the outcome of the conflict, it will keep on chasing the news headlines, but oil is a major worrying factor that will continue to bother domestic currency, he added.
Meanwhile, the local unit has lost Rs18.68 against the USD from July'21 to date, Whereas, the rupee appreciated by 0.28 paisa in CY22, with the month-to-date (MTD) position showing a gain of 0.27%, as per data compiled by Mettis Global.
The month to date performance of PKR remained comparatively better against major currencies as the local unit appreciated by 1.75%, 1.61%, 1.47%, 1.37%, 1.39%, 0.38%, and 0.35% against AUD, EUR, CAD, CHF, CNY, GBP, and SAR, respectively.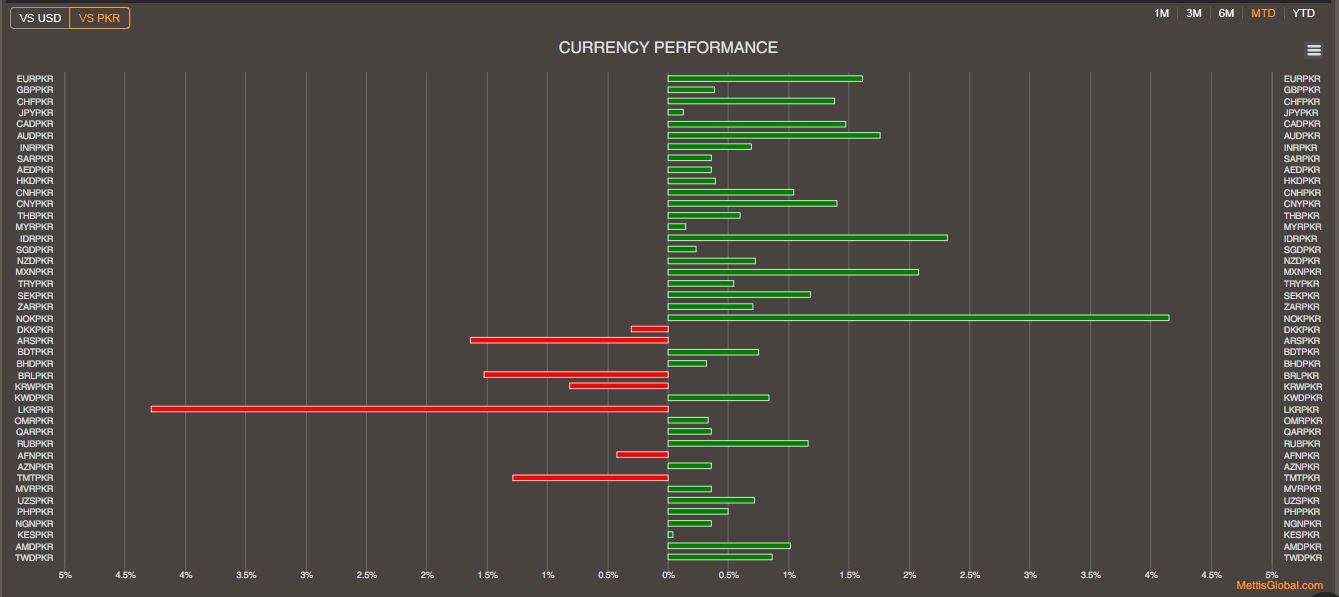 Within the open market, PKR was traded at 176.50/177.30 per USD.
Alternatively, the currency lost 58 paisa to the Pound Sterling as the day's closing quote stood at PKR 239.71 per GBP, while the previous session closed at PKR 239.13 per GBP.
Similarly, PKR's value weakened by 66 paisa against EUR which closed at PKR 199.75 at the interbank today.
On another note, within the money market, the overnight repo rate towards the close of the session was 9.70/10.00 percent, whereas the 1-week rate was 9.85/9.95 percent.
Copyright Mettis Link News
Posted on: 2022-02-23T16:19:51+05:00
31031