May 30, 2022 (MLN): Owing to much clarity on the IMF front, the Pakistani rupee (PKR) continued to recover in the second consecutive session against the greenback in the interbank market as the currency closed the trade at PKR 199.06, appreciating by 69 paisa compared to last session's closing of PKR 199.76 per USD.
During the day, the local unit traded in a range of 50 paisa per USD showing an intraday high bid of 199.25 and an intraday low offer of 198.90.
Along with the government's decision to roll back subsidies, the USA market remained closed due to Memorial Day which kept the demand for greenback capped.  
Meanwhile, Prime Minister has also announced an Rs28 billion package for the poor segment to counter the inflationary pressure. However, the relief package would be released after final approval by the fund.
Minister for Finance and Revenue, Miftah Ismail informed lately that the staff-level agreement with IMF would be signed next month (June).
From July'21 to date, the local unit has lost Rs41.51 against the USD. Similarly, the rupee fell by Rs22.54 in CYTD, with the month-to-date (MTD) position showing a decline of 6.72%, as per data compiled by Mettis Global.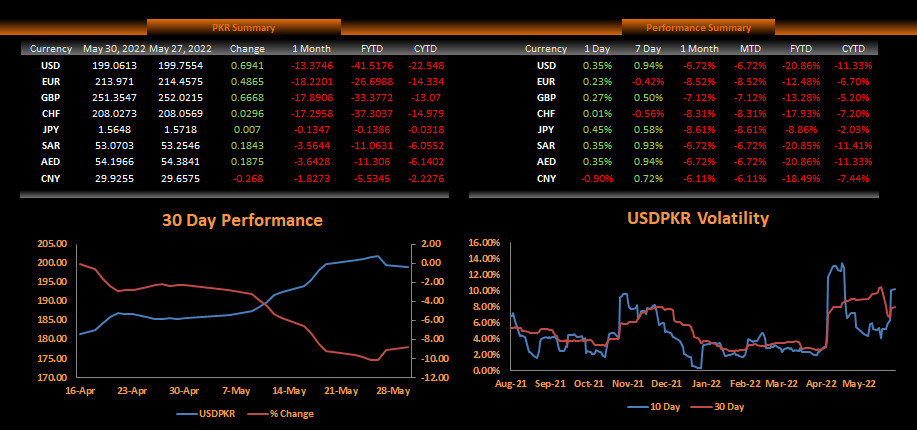 During the last 52 weeks, PKR lost 22.44% against the greenback, reached its lowest at 199.06 today, and touched its high of 154.39 on May 31, 2021.
Furthermore, the local unit has weakened by 12.70% since its high on July 02, 2021, against EUR while, it has dropped by 13.56% against GBP since its high on July 02, 2021.

In addition, the performance of PKR remained bleak against major currencies the month to date as it weakened by 8.61, 8.52, 8.31, 7.12, 6.72%, 6.72%, and 6.11%, against JPY, EUR, CHF, GBP, SAR, AED, and CNY, respectively.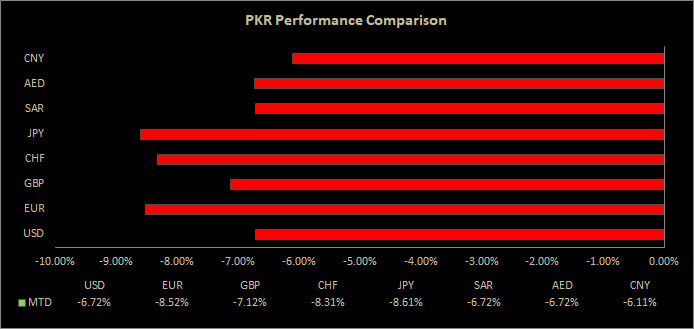 Within the open market, PKR was traded at 198/200 per USD.
Meanwhile, the currency gained 67 paisa against the Pound Sterling as the day's closing quote stood at PKR 251.35 per GBP, while the previous session closed at PKR 252.02 per GBP.
Similarly, PKR's value strengthened by 49 paisa against EUR which closed at PKR 213.97 at the interbank today.
On another note, within the money market, the State Bank of Pakistan (SBP) conducted an Open Market Operation (OMO) in which it injected Rs111.9 billion into the market for 4 days at 13.78 percent.
The overnight repo rate towards the close of the session was 14.00/14.25 percent, whereas the 1-week rate was 13.75/13.85 percent.
Copyright Mettis Link News
Posted on: 2022-05-30T16:53:40+05:00
33053