November 19, 2021 (MLN): Pakistani rupee (PKR) remained under pressure on the last trading session of the week as the currency closed the day's trade at PKR 175.24 per USD, depreciating by 57 paisa, against yesterday's closing of PKR 174.67.
During the week, the currency has gained 49 paisa against the greenback, as the previous week was concluded at PKR 175.73 per USD.
Earlier this week, PKR pared some of its losses on the back of a positive statement by Shaukat Tarin, Adviser to Prime Minister on Finance and Revenue wherein he hinted that the prevailing uncertainty pertaining to the IMF loan facility is going to be over soon. He also said, "speculators will soon bear the losses."
In a recent talk with Mettis Global, Asad Rizvi, the Former Treasury Head at Chase Manhattan criticized the same statement as it would create serious problems for the country on the front Financial Action Task Force (FATF).
However, the impact of the adviser's statement faded as PKR joined back its previous course on the rising inflation in the international market, increasing demand for the dollar, and uncertainty related to IMF.
Market participants are still waiting for the conclusion of the IMF talks with the government on the resumption of the Extended Fund Facility (EFF).
PKR witnessed a volatile trading session today with quotes being recorded in a range of 2 rupees per USD showing an intraday high bid of 175.60 and an intraday Low offer of 173.60.
Within the Open Market, PKR was traded at 174.50/176.50 per USD.
The domestic unit has depreciated by 10.10% or PKR 17.69 in the fiscal year-to-date against the USD. Similarly, the rupee has weakened by 8.79% or PKR 15.40 in CY21, with the month-to-date (MTD) position showing a decline of 1.76%, as per the data compiled by Mettis Global.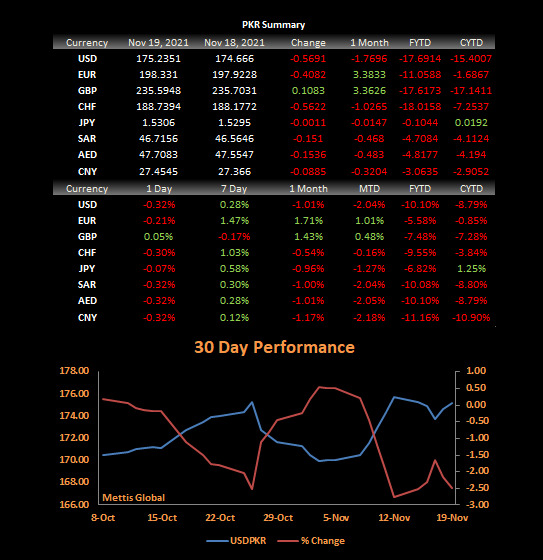 Alternatively, the currency gained 11 paisa against the Pound Sterling as the day's closing quote stood at PKR 235.59 per GBP, while the previous session closed at PKR 235.7 per GBP.
On the other hand, PKR's value weakened by 41 paisa against EUR which closed at PKR 198.33 at the interbank today.
On another note, within the money market, the State Bank of Pakistan (SBP) conducted an Open Market Operation in which it injected Rs.1.84 trillion for 3 days at 7.62 percent.
The overnight repo rate towards the close of the session was 7.65/7.80 percent, whereas the 1-week rate was 7.90/8.10 percent.
Copyright Mettis Link News
Posted on: 2021-11-19T16:50:30+05:00
29180