April 14, 2022 (MLN): Maintaining its gaining streak, the Pakistani rupee (PKR) has further appreciated by 13 paisa against the US dollar on Thursday in the interbank session as the currency closed the trade at PKR 181.69, compared to yesterday's closing of PKR 181.82 per USD.
Throughout the session, the local unit traded in a range of 90 paisa per USD showing an intraday high bid of 181.80 and an intraday low offer of 181.10.
According to the currency experts, the domestic unit is undervalued while the dollar is overvalued due to its demand.
Shaukat Tarin, the former Finance Minister in his latest press conference stated the same that PKR is undervalued. The statement was later supported by former FM Ishaq Dar wherein he said that PKR can strengthen to 160 per USD if the economy is steered in the right direction.
From July'21 to date, the local unit has lost Rs24.14 against the USD. Similarly, the rupee fell by Rs5.17 in CYTD, with the month-to-date (MTD) position showing an up of 0.99%, as per data compiled by Mettis Global.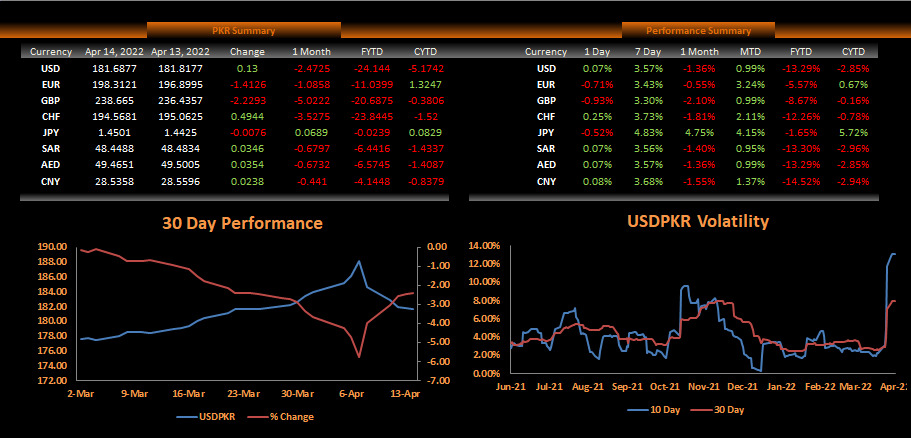 During the last 52 weeks, PKR lost 16.19% against the greenback, reached its lowest at 188.169 today and touched its high of 152.27 on May 7, 2021.
Furthermore, the local unit has weakened by 7.78% since its high on April 16, 2021, against EUR.  While, it has dropped by 12.03% against GBP since its high on April 16, 2021.

In addition, the performance of PKR remained bleak against major currencies during one month as it weakened by 2.10%, 1.81%, 1.55%, 1.40%, 1.36%, and 0.55% against GBP, CHF, CNY, AED, and EUR, respectively. On the other hand, the local unit strengthened by 4.75% against JPY during the same period.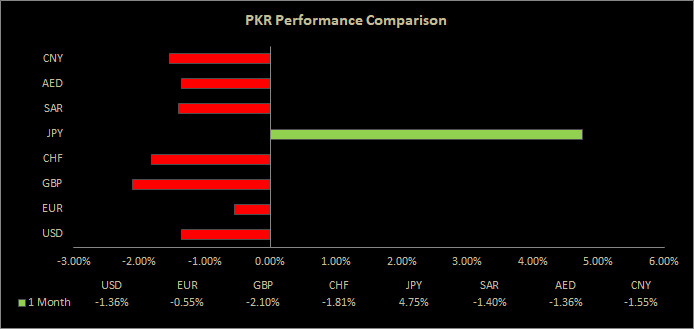 Within the open market, PKR was traded at 181/182.25 per USD.
Alternatively, the currency lost 2.2 rupees to the Pound Sterling as the day's closing quote stood at PKR 238.67 per GBP, while the previous session closed at PKR 236.44 per GBP.
Similarly, PKR's value weakened by 1.4 rupees against EUR which closed at PKR 198.31 at the interbank today.
On another note, within the money market, the State Bank of Pakistan (SBP) conducted an Open Market Operation (OMO) in which it injected Rs163.5 billion into the market for 1 day at 12.28 percent.
The overnight repo rate towards the close of the session was 12.50/12.70 percent, whereas the 1-week rate was 12.35/12.45 percent.
Copyright Mettis Link News
Posted on: 2022-04-14T15:15:03+05:00
32069