June 27, 2022 (MLN): After witnessing a notable gain of around one rupee against the US dollar in early trade on the back of a fresh inflow of $2.3bn from China, the Pakistani rupee (PKR) joined back its downward journey and depreciated by 47 paisa in today's interbank session to close the trade at PKR 207.94 per USD.
The rupee endured a volatile trading session with quotes being recorded in a range of 1.25 rupees per USD showing an intraday high bid of 207.75 and an intraday low offer of 207.00 while in the open market, PKR was traded at 205/207 per USD.
Speaking to Mettis Global, Malik Bostan, President of Forex Association of Pakistan said, "The interbank market is still going through a period of uncertainty due to political chaos as elections are around the corner. Meanwhile, former Prime Minister Imran Khan issued a fresh call for a protest which has also smashed market sentiments."
Adding to it, he said that apart from the political scenario, the rest of the indicators are in favor of the interbank market. Since Pakistan has also received inflows from China and there have been positive developments on the IMF front, the PKR is likely to appreciate in the near term, he added.
From July'21 to date, the local unit has lost Rs50.4 against the USD. Similarly, the rupee fell by Rs31.43 in CY21, with the month-to-date (MTD) position showing a decline of 4.56%, as per data compiled by Mettis Global.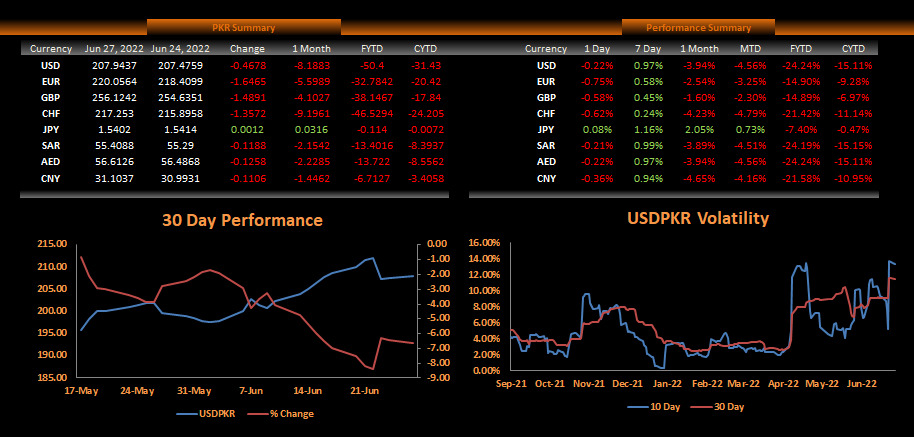 During the last 52 weeks, PKR lost 24.24% against the greenback while reaching its lowest at 211.93 on June 22, 2022, and the highest of 157.54 on June 30, 2021.
Furthermore, the local unit has weakened by 15.12% since its high on July 02, 2021, against EUR while, it has dropped by 15.17% against GBP since its high on July 02, 2021.

The performance of the local unit remained bleak against other major currencies in MTD as the currency lost its value by 4.79%, 4.56%, 4.51%, 4.16%, 3.25%, and 2.30% against CHF, AED, SAR, CNY, EUR, and GBP, respectively. On the other hand, the local unit has appreciated by 0.73% against JPY.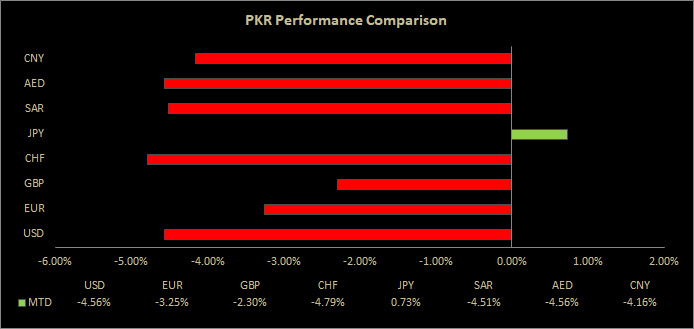 Meanwhile, the currency lost 1.5 rupees to the Pound Sterling as the day's closing quote stood at PKR 256.12 per GBP, while the previous session closed at PKR 254.64 per GBP.
Similarly, PKR's value weakened by 1.6 rupees against EUR which closed at PKR 220.06 at the interbank today.
On another note, within the money market, the overnight repo rate towards the close of the session was 12.75/12.80 percent, whereas the 1-week rate was 13.05/13.15 percent.
Copyright Mettis Link News
Posted on: 2022-06-27T16:13:11+05:00
33740