June 27, 2022 (MLN): The Pakistani rupee (PKR) on Monday gained around one rupee against the greenback in early trade as the local unit is being traded at 207.03/207.53 per USD [9:49 PST], compared to the previous close of PKR207.48 per USD.
The positive sentiments stemmed in the interbank market after the State Bank of Pakistan (SBP) had received a $2.3 billion loan from a Chinese consortium on Friday.
As per expectations, in the wake of depleting foreign exchange reserves, the inflow has given some respite to the deteriorating rupee-dollar parity.
Meanwhile, the International Monetary Fund (IMF) is expected to send the draft of the Memorandum of Economic and Financial Policies (MEFP) to Pakistan today which would be a crucial step to validate that both sides have reached an agreement for the revival of $6bn program.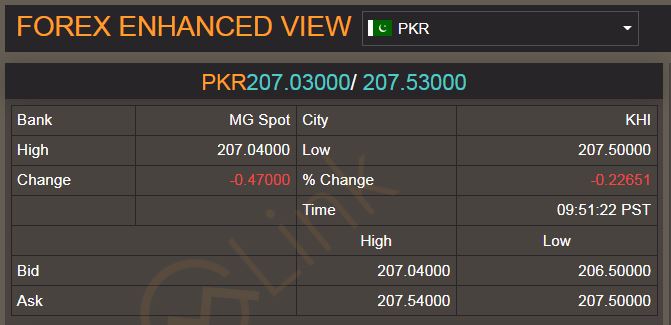 Copyright Mettis Link News
Posted on: 2022-06-27T09:49:26+05:00
33727