August 02, 2022 (MLN): Maintaining its gaining streak, the Pakistani rupee (PKR) has appreciated by 45 paisa against the US dollar in the interbank session as the currency closed the day's trade at PKR 238.38 per USD compared to yesterday's closing of PKR 238.84 per USD.
This recovery is primarily attributable to the ease in import payments. Furthermore, the latest statement by the Federal Minister for Finance and Revenue Miftah Ismail pertaining to ease in dollar PKR parity in the coming days.
As per the latest development, Dr. Esther Perez Ruiz, International Monetary Fund (IMF)'s Resident Representative for Pakistan on Wednesday said, "Pakistan has completed all prior actions for loan review."
In a message to a news agency, she said that the country has met its last prior action of the IMF for the combined 7th and 8th review after increasing the petroleum development levy (PDL).
This development would help the country to receive $1.177 billion after the approval of IMF's Executive Board, bringing total disbursements under the program to about $4.2bn which would further improve the dollar PKR parity. 
According to market experts, in the backdrop of the current economic fundamentals of Pakistan, PKR should not be quoted at more than 190 rupees per USD.  
The rupee traded in a range of 60 paisa per USD showing an intraday high bid of 238.60 and an intraday low offer of 238.50 while in the open market, PKR was traded at 238/240 per USD.
PKR lost 35.53 rupees or 14.07% in FYTD, while it plummeted by 61.87 rupees or 25.95% against the USD, as per data compiled by Mettis Global.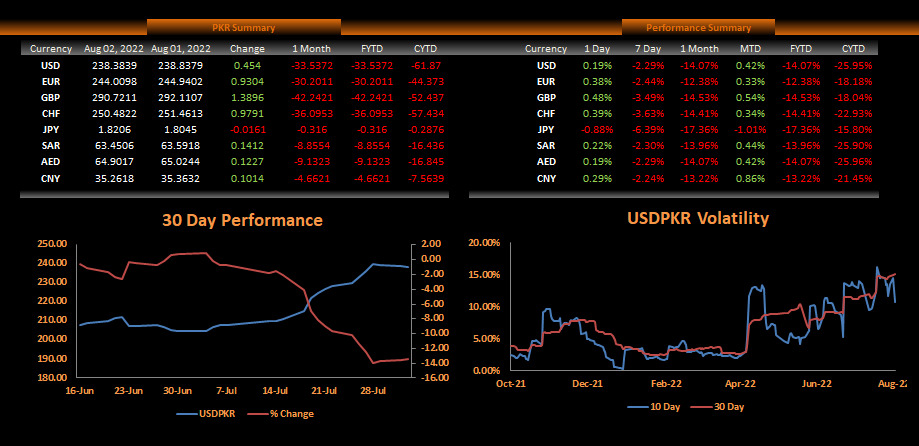 During the last 52 weeks, PKR lost 31.53% against the greenback while reaching its lowest at 239.94 on July 28, 2022, and the highest of 163.22 on August 05, 2021.
Furthermore, the local unit has weakened by 21.45% and 23.08% against EUR and GBP, respectively since its high on August 20, 2021.

In addition to it, the performance of the local unit remained satisfactory against other major currencies in MTD as the currency gained 0.86%, 0.54%, 0.44%, 0.42%, 0.34%, and 0.33%, against CNY, GBP, SAR, AED, CHF, and EUR respectively. On the other hand, the domestic unit lost 1.01% against JPY during the same period.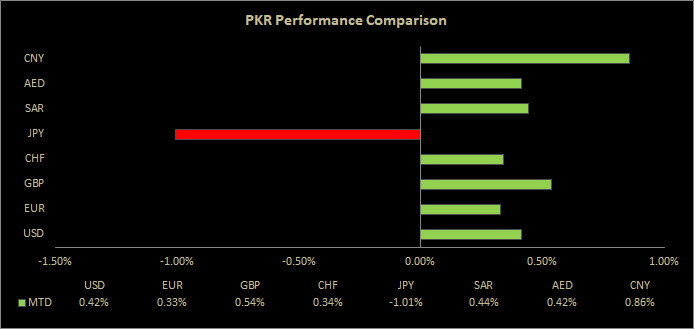 The currency gained 1.4 rupees against the Pound Sterling as the day's closing quote stood at PKR 290.72 per GBP, while the previous session closed at PKR 292.11 per GBP.
Similarly, PKR's value strengthened by 93 paisa against EUR which closed at PKR 244.01 at the interbank today.
On another note, within the money market, the overnight repo rate towards the close of the session was 14.50/14.75%, whereas the 1-week rate was 14.85/14.95%.
Copyright Mettis Link News
Posted on: 2022-08-02T16:56:31+05:00
34405