January 25, 2022 (MLN): Pakistan's ranking has slipped to 140th among 180 countries, sixteen places down from 124th rank last year in Corruption Perceptions Index (CPI) 2021 released by Transparency International today.
According to the report by the corruption watchdog, the country's score fell by three points to 28 on the global corruption index. In 2020, the country's score was 31.
Pakistan's performance in the CPI has been deteriorating for third consecutive years, dropping from a score of 32 to 28. To note, the incumbent government claimed of ensuring a corruption-free country.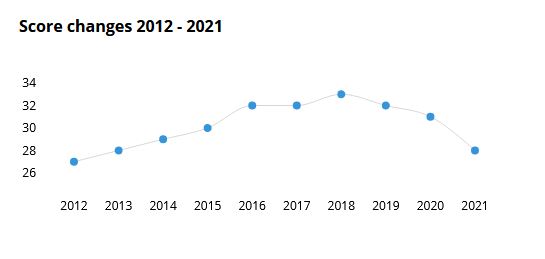 Transparency International noted that corruption levels remain at a standstill worldwide, with 86% of countries making little to no progress in the last 10 years.
The CPI ranks 180 countries and territories around the world by their perceived levels of public sector corruption whereby the results are given on a scale of 0 (highly corrupt) to 100 (very clean).
The top countries on the index are Denmark (88), Finland (88) and New Zealand (88), all of which also rank in the top 10% in the world on the democracy index civil liberties score.
Meanwhile, Transparency International found countries that violate civil liberties consistently score lower on the CPI. Complacency in fighting corruption exacerbates human rights abuses and undermines democracy, setting off a vicious spiral. As these rights and freedoms erode and democracy declines, authoritarianism takes its place, contributing to even higher levels of corruption.
Delia Ferreira Rubio, Chair of Transparency International said: "Human rights are not simply a nice-to-have in the fight against corruption. Authoritarian approaches destroy independent checks and balances and make anti-corruption efforts dependent on the whims of an elite. Ensuring people can speak freely and work collectively to hold power to account is the only sustainable route to a corruption-free society."
Going by the report, the top performers in the Asia Pacific are New Zealand (CPI score: 88), Singapore (85) and Hong Kong (76). However, most countries sit firmly below the global average of 43. This includes three countries with some of the lowest scores in the world: Cambodia (23), Afghanistan (16) and North Korea (16).
Among those with weak scores are some of the world's most populous countries, such as China (45) and India (40), and other large economies such as Indonesia (38), Pakistan (28) and Bangladesh (26). A concerning trend across some of these nations is a weakening of anti-corruption institutions or, in some cases, the absence of an agency to coordinate action against corruption, it added.
Copyright Mettis Link News
Posted on: 2022-01-25T11:53:38+05:00
30388