December 8, 2021(MLN): Fitch Ratings has affirmed Pakistan's Long-Term Foreign-Currency Issuer Default Rating (IDR) to 'B-' with a 'Stable' outlook, findings of Fitch Ratings 2022 Outlook for APAC released on Tuesday.
To note, on Nov 24, the rating agency noted that country's recent policy adjustments and demonstrated access to external financing, as well as its commitment to a market-determined exchange rate, offset rising external risks from a widening current-account deficit. Ongoing reforms, if sustained, could create positive momentum for the sovereign's 'B-' rating which it affirmed in May 2021 with a Stable Outlook.
In its latest report, it stated that the brightening economic outlook and prospects for policy normalisation are resulting in reduced rating pressures for Asia-Pacific (APAC) sovereigns.
Fitch recently upgraded Taiwan (AA) and the Maldives (B-), with the former benefitting from sustained export demand and the latter from tourism inflows. It revised the outlook on Australia to stable from negative last October on improved fiscal consolidation prospects.
However, it retained negative outlooks on India and Japan with high pubic debt ratios and uncertain trajectories, and the Philippines and the Philippines which has been especially hard hit by the virus. Ratings in some of the region's frontier markets, such as Laos, and even more so Sri Lanka with rising default risks, remain weighed down by heavy external debt obligations against low foreign-exchange reserves.
"Economic growth across the Asia-Pacific region should broaden in 2022 with rising vaccination rates and tailwinds from exports. Domestic demand in emerging markets, which was held back over the past year, should strengthen, allowing Covid-19 relief measures to unwind gradually and fiscal deficits to narrow," Stephen Schwartz, Head of APAC Sovereign Ratings said.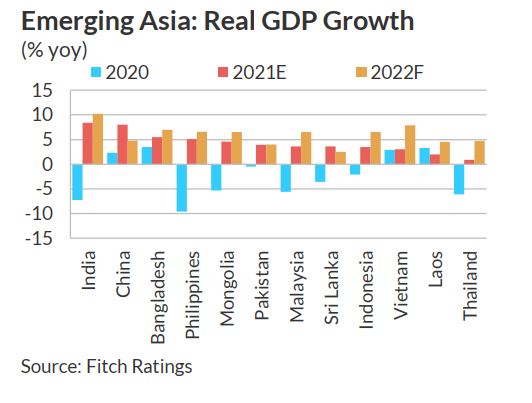 The rating agency projects fiscal deficits to narrow in nearly all APAC sovereigns in 2022, as relief measures unwind and revenue ratios rise with the recovery of domestic demand. The narrowing of deficits will generally be modest, however, as governments exercise caution in withdrawing support in view of fragile recoveries and risks to the outlook.
The report noted that consolidation strategies were delayed in APAC emerging markets in 2021, as authorities grappled with further outbreaks of Covid-19. For example, Malaysia (BBB+/Stable) rolled out a series of fiscal support packages in 2021. Indonesia (BBB/Stable) relaxed budget targets for 2021 and 2022, even though the authorities aim to bring the deficit back to within their 3% of GDP ceiling by 2023.
In developed markets, by contrast, support packages have been much larger and consolidation efforts are proceeding more steadily, where fiscal relief packages were larger relative to GDP than in emerging markets and where vaccine rollouts are more advanced.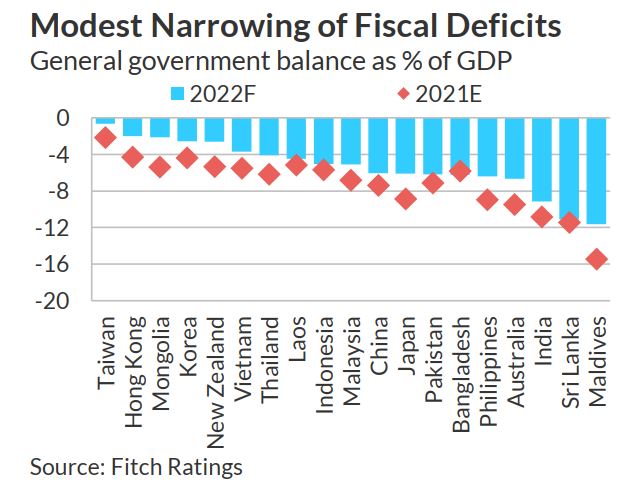 On the monetary front, it is expected that monetary policies would remain accommodative, with inflation staying subdued in APAC, though it is anticipated that interest-rate hikes are likely to continue in South Korea and New Zealand as their recoveries solidify, and in 'frontier markets' facing external pressures such as Sri Lanka and Pakistan.
The report anticipates rate hikes to begin later in the year in emerging markets such as India and Indonesia. Japan's accommodative stance should remain on hold. While rating agency expects some easing in China as the authorities seek to cushion the economic impact of other initiatives that are slowing growth. These include measures to contain property-sector financial excesses, a regulatory crackdown on internet-based companies, and the imposition of mobility restrictions in pursuit of "zero-Covid".
Meanwhile, Fitch sees the sector outlook for APAC sovereigns in 2022 as improving, but China's economic slowdown stands among a number of factors that could pose challenges. Others include the potential for further Covid-19 outbreaks and new variants such as Omicron and difficult financing conditions associated with US monetary tightening and dollar appreciation. The path of policy normalisation could influence sovereign ratings in APAC, particularly for those on Negative Outlooks, such as India (BBB-/Negative), Japan (A/Negative) and the Philippines (BBB/Negative).
Copyright Mettis Link News
Posted on: 2021-12-08T12:39:46+05:00
29457