June 17, 2022 (MLN): Financial Action Task Force (FATF) will announce decision of keeping or removing Pakistan from grey list in last week of July after making "onsite-visit" to Pakistan, Sources from Finance Ministry told today.
According to Finance Ministry, FATF has agreed to Pakistan's claim of fulfilling/implementing all 27 recommendations.
In light of this review, Pakistan will submit its progress report in first week of July.
FATF will review the detailed progress report and will make onsite visit to Pakistan in last week of July.
The FATF team will visit relevant departments and interview officers during onsite visit after which it will submit report to FATF.
On the basis of onsite team report, FATF will announce decision of keeping or removing Pakistan from grey list, sources from Finance Ministry said.
As per the government officials, Pakistan is just "one step away" from being removed from the grey list of the FATF.
However, Minister of State for Foreign Affairs, Former Foreign Minister of Pakistan asked people to avoid speculative reporting regarding the outcome of FATF decision on Pakistan's progress.
In her Tweet, she wrote "FATF Plenary Meeting is continuing in Berlin. FATF will issue a Public Statement after conclusion of the meetings tonight. Prejudging the outcome or speculative reporting could and should be avoided. GOP has arranged a media briefing at MOFA on Saturday morning on this issue"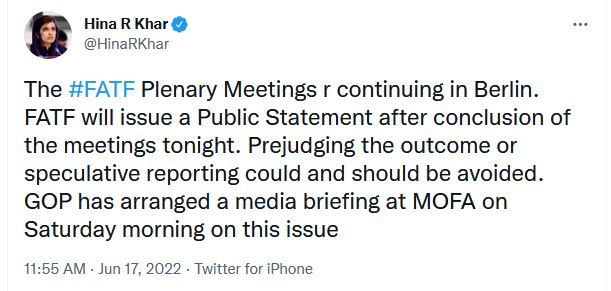 To recall, in its last plenary meeting held on March 4, 2022, the watchdog kept Pakistan on its grey list despite the fact that the country had fulfilled the anti-money laundering its maximum technical requirements.
This time it is expected that Pakistan will be taken off the FATF's grey list as the country has made significant progress in tackling most of the action plans, and fighting against money laundering and terrorist financing (AML/CFT) in the past few months.
Posted on: 2022-06-17T11:47:14+05:00
33522