May 10, 2022 (MLN): The raging dollar continued to knock down the Pakistani rupee (PKR) as the local currency settled the day's trade at PKR 188.66, depreciating by 1.1 rupees in today's interbank session compared to yesterday's close of PKR 187.53 per USD.
The rupee endured a volatile trading session with quotes being recorded in a range of 1 rupee per USD showing an intraday high bid of 188.70 and an intraday low offer of 187.85.
Weak macro fundamentals including a widening trade deficit, dwindling foreign reserves and high inflation have been weighing on the PKR, as the domestic currency tumbled by 3.03 rupees or 1.64% in the last four trading sessions against the greenback.
According to Ahsan Mehanti, Director Arif Habib Group, "The PKR is under pressure due to paying higher oil Import bill and speculation awaiting Saudi package"
From July'21 to date, the local unit has lost Rs31.11 against the USD. Similarly, the rupee fell by Rs12.14 in CYTD, with the month-to-date (MTD) position showing a drop of 1.57%, as per data compiled by Mettis Global.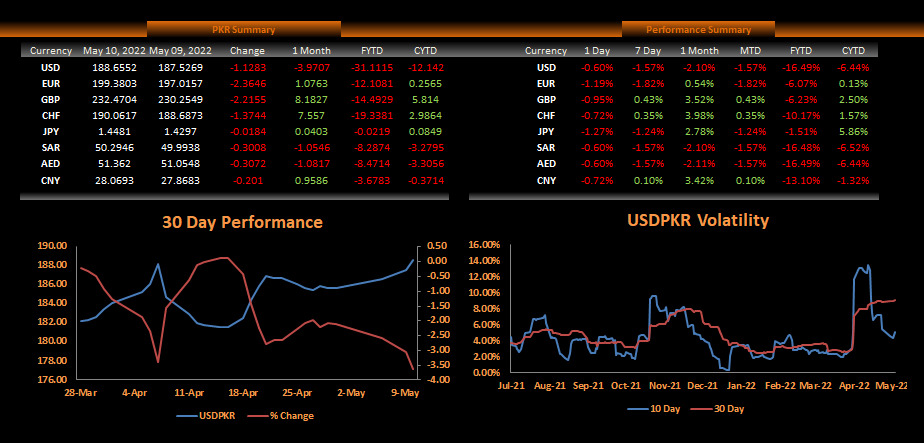 In addition, the performance of PKR remained bleak against major from fiscal year to date as it weakened by 16.49%, 16.48%, 13.10%, 10.17%, 6.23%, and 6.07% against AED, SAR, CNY, CHF, GBP, and EUR, respectively.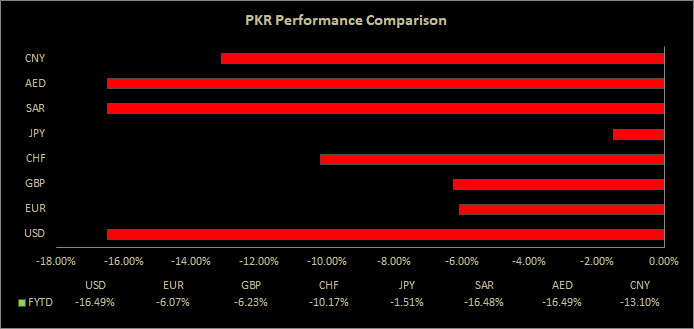 During the last 52 weeks, PKR lost 19.11% against the greenback, reached its lowest at 188.67 today, and touched its high of 152.59 on May 17, 2021.
Furthermore, the local unit has weakened by 7.06% since its high on May 17, 2021, against EUR.  While, it has dropped by 7.44% against GBP since its high on May 17, 2021.

Within the open market, PKR was traded at 188/189.50 per USD.
Meanwhile, the currency lost 2.2 rupees to the Pound Sterling as the day's closing quote stood at PKR 232.47 per GBP, while the previous session closed at PKR 230.25 per GBP.
Similarly, PKR's value weakened by 2.4 rupees against EUR which closed at PKR 199.38 at the interbank today.
The overnight repo rate towards the close of the session was 13.00/13.20 percent, whereas the 1-week rate was 12.65/12.75 percent.
Copyright Mettis Link News
Posted on: 2022-05-10T16:44:34+05:00
32595