February 28, 2022 (MLN): Despite the baggage of recent international conflict between Russia and Ukraine and escalating commodity prices along with the theory of a growth-oriented tangled supply chain, the headline inflation is expected to take a temporary pause and is likely to settle around 11.5%-12.2% with an average estimate of 11.93% YoY mainly on high base effect. 
Last month, CPI witnessed an increase of 12.9% YoY while in February 2021, it clocked in at 8.7% on higher energy prices. 
This would bring 8MFY22 average inflation to 10.5% as against 8.27% YoY in the corresponding period last year.
On a sequential basis, the CPI would likely surge by 0.83% compared to the 0.39% MoM increase in the month of January 2021.
The uptick in CPI will be based on an increase in food index, transport, clothing & footwear, restaurants & hotels, housing, and household equipment by 14.6% YoY, 25.4% YoY, 9.3% YoY, 13.9% YoY, 9.4% YoY, 12.0% YoY.
While on monthly basis, the food and transportation indices will keep inflation elevated. However, the housing index will see some ease owing to the reduction in electricity prices.
The expected surge in the cost of living is driven by increasing prices of perishable food items. Running through the weekly SPI data published by the Pakistan Bureau of Statistics (PBS), among major food items, the prices of tomatoes, chicken and fresh vegetables are expected to register an increase of 146%, 14% and 22% MoM, respectively. On the flip side, the prices of essential food items like eggs, potatoes and condiments and spices are expected to decline 11% MoM, 13% MoM and 12% MoM, respectively which will keep the food index contained.
| CPI Projections for February 2022 | CPI YoY% | CPI MoM% |
| --- | --- | --- |
| Adam Securities Limited | 12.2 | 1.1 |
| Abbasi & Company Private Limited | 11.28 | 0.3 |
| AKD Securities | 11.5 | 0.45 |
| Intermarket Securities | 12.2 | 1.1 |
| Arif Habib Limited | 12.02 | 0.96 |
| Sherman Securities | 12.2 | 1.1 |
| Spectrum Limited | 12.1 | 1.02 |
| Average | 11.93 | 0.86 |
| Range | 11.5-12.2 | 0.3-1.1 |
| 8MFY22 | 10.5 |   |
Furthermore, the transport group index is expected to witness an uptick on account of a surge in fuel prices in February 2022 compared to petroleum prices in February 2021 on the back of increase in International Arab Light prices by 6.5% MoM to average prices of $91.31 per barrel compared to $85.74 per barrel in January 2022 following the upward rally of commodities due to Ukraine-Russia conflict.
It is pertinent to mention that after the Russian troops' invasion in Ukraine, the prospects of severe sanctions disrupting energy and commodities markets, posing a big threat to a global economy as the oil market cannot afford large supply disruptions in the ongoing military operations due to low inventories and declining spare capacity.
On the domestic front, Russia's action against Ukraine could have serious complications for Pakistan as it could further disrupt energy supplies, exacerbate food insecurity, and another rally in semi-conductor chip prices.
Further deterioration of the geopolitical situation can push oil prices even higher that can have a devastating effect on the country's growth prospects as it can create further inflationary pressure that may dwindle the country's current account situation further, adding more pressure on the Pakistani rupee.
On the IMF front, Pakistan will likely receive $11.6bn till June 2022 to be able to overcome the external funding gap which is being caused by current account slippages owing to import growth from strong domestic demand and higher commodity prices.
The fund estimates the current account deficit to widen to $12.99bn during FY22, and it is likely to stand higher than $12bn till FY25. The market-based exchange rate and prudent policy settings will help ease external pressures and keep import cover close to 2.8months in the long run, Wajid Rizvi, Head of Economy and Strategy at JS Global said.
On the flip side Hamza Kamal, Deputy Head Research at AKD Securities said, "Even successful and timely completion of reviews under IMF program is subject to uncertainty which also opens downside risks to PKR dollar parity which had found stability at current levels following receipt of $1bn each IMF tranche and Sukuk Bond."
To highlight, the first-round impact of a 10% hike in oil prices contributes 38bps to monthly inflation while that of Gas tariff stands at 6.5bps. Additionally, every 1% currency devaluation contributes 10bps to inflation over a period of 4M as per studies, he added.
In addition, the State Bank of Pakistan, on the monetary policy front to cool down the unevenly heated economy, increased the policy rate by 275 basis points from September 2021, but the real interest rate is still hovering in the negative territory at 2.2%.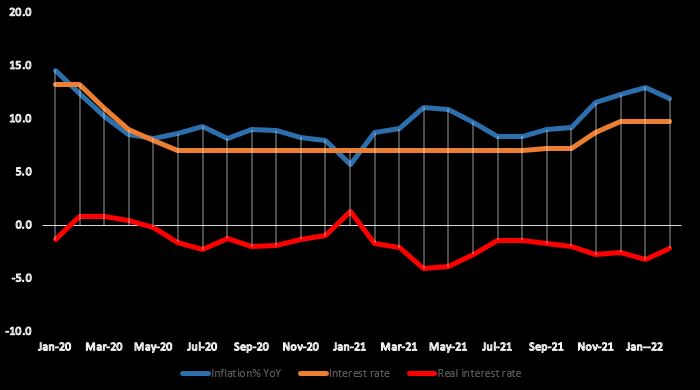 Taking a pause in the hike in the policy rate in its recent monetary policy meeting, the SBP has guided that it will no longer aim for positive real interest rates and is likely to increase the policy rates only moderately in the near future.
MPC statement noted that the current real interest rates on a forward-looking basis are appropriate to guide inflation to the medium-term range of 5-7 percent, support growth, and maintain external stability. If future data outturns require a fine-tuning of monetary policy settings, the MPC expected that any change would be relatively modest.
Going forward, it is expected inflation to remain under pressure on account of adjustments in electricity price, increase in prices of petroleum products owing to higher international oil prices and surge in prices of perishable and nonperishable food items during the month of Ramadan, Sana Tawfiq, Analyst at Arif Habib Limited said.
Copyright Mettis Link News
Posted on: 2022-02-28T17:31:04+05:00
31127