November 30, 2021 (MLN): With agricultural input costs moving higher, energy prices on a sharp upward trajectory and housing inflation adding fuel to the fire after the government moved to increase base-load tariff in a run-up to resume the IMF program, consumer inflation is expected to increase in double-digit in November 2021.
The last time double-digit CPI was recorded in May 2021 (10.9% YoY), after which it hit a low of 8.4% in July 2021 during the ongoing fiscal year. Since then,  the headline inflation started resurging and reached 9.19% in October 2021, driven by the higher energy costs and a rise in core inflation.
Going by the projections, brokerage houses expect to see a rise of 1.74% month over month, or an average annualized estimate of 10.19% for November 2021 when the consumer price index (CPI) is released on Wednesday by the Pakistan Bureau of Statistics (PBS).
This would bring 5MFY22 average inflation to 9.15% as against 8.74% YoY in the corresponding period last year, slightly exceeding the upper band of SBP's inflation forecast of 7-9% for FY2022.
However, in its recent report, the Pakistan Institute of Development Economics (PIDE) forecasted inflation would hover around 10% to 10.5% for the fiscal year 2021-22 which is substantially higher than SBP's forecasts, International Monetary Fund (8.5%), and Asian Development Bank (7.5%).
The CPI inflation is to persist in double digits till December 2022 with an upward momentum through the remaining part of FY22 and the first half of FY23. There will be a significant upward revision in the SBP's inflation forecasts which would be 9% to 11%, the report noted.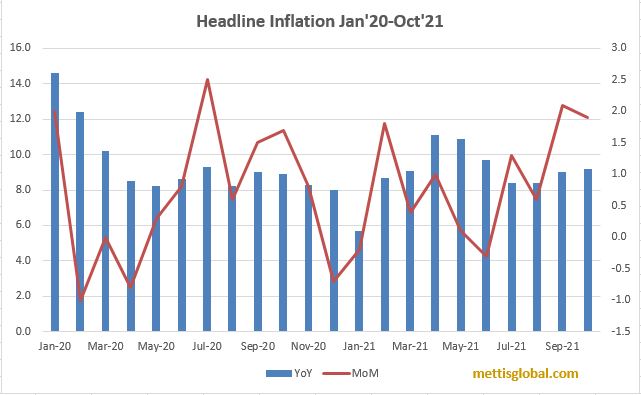 On a sequential basis, inflation is expected to escalate mainly due to an increase in the prices of essential food items such as tomatoes, potatoes and cooking oil and ghee, while major laggards that would lower the impact are likely to be onion and pulse masoor.
On the transportation side, the spillover of higher petroleum prices that soared by around 8% MoM is likely to continue to transmit into headline inflation. In addition, the household equipment index is also expected to put some inflationary pressure on consumers due to 2.7% MoM and 2.3% MoM upward adjustment in electricity tariffs and construction input costs.
Further, the higher international commodity prices along with PKR depreciation against USD by 2.31% MoM in November also induced cost-push inflation, affecting purchasing power.
CPI Projections for November 2021

YoY 

MoM

Pearl Securities Ltd

10.10

1.67

Spectrum

10.29

1.84

Arif Habib Limited

10.43

1.97

Sherman Research

10.00

1.6

Taurus Securities

9.83

1.41

Aba Ali Habib Securities

10.10

1.62

JS Global

10.20

1.70

Shajar Capital

10.60

2.10

Range

9.83-10.6

1.41-2.1

Mode

10.10

–

Median

10.15

1.69

Average

10.19

1.74

Expected Average Inflation in 5MFY22

9.15%
Inflation Outlook
It is believed that the inducing aggregate demand along with the stringent International Monetary Fund (IMF) conditions may likely keep cost-push inflation in the country, making consumer inflation to post more hot numbers in the coming months.
Moreover, supply constraints caused by hoarding and smuggling to Afghanistan of food items would likely keep inflation on the higher side, a research note by Spectrum Securities cited.
The recent emergence of a new COVID variant, Omicron, has slightly relieved the bull run of international commodities, particularly oil prices. This dent in oil prices may curtail the country's import bill but may unlikely to be relayed onto general inflation as potential revision in the petroleum levy (PDL) collection is yet to be normalized. The increase in long-term inflation expectations is more visible in the movement of secondary market yields which will likely keep the monetary contraction on tenterhooks, said Wajid Rizvi, head of strategy and economy at JS Global.
With regards to monetary outlook, SBP highlighted that it would continue to carefully monitor developments affecting medium-term prospects for inflation, financial stability, and growth and stands ready to respond appropriately. To recall, the central bank jacked up the policy rate by 150 basis points to 8.75% on heightened risks related to inflation and balance of payments. These risks came from COVID- induced supply chain disruptions and rising energy prices along with emerging signs of demand-side pressures. Meanwhile, inflation expectations of businesses have risen on account of further upside risks from domestic administered prices.
Copyright Mettis Link News
Posted on: 2021-11-30T16:28:02+05:00
29335