May 29, 2022 (MLN): This week, the KSE100 index declined for a sixth straight week, falling 0.56% or 239 points, and closed at 42,861 level.
In terms of USD, the index declined by 0.36% from last week.
The decline was mainly due to the uncertain political situation as the opposition party staged a long march against the government, the Rupee devaluation as it touched its all-time low to Rs203/USD, the increase in the policy rate by 1.5% to 13.75% and delay in IMF program.
However, during the last three trading sessions, the market showed a recovery of 911 points owing to hope of ease in the external account as the government fulfilled the long-pending demand of IMF of increasing POL products prices, a note by Spectrum Securities said.
The successful review would also open other funding avenues for the country. Resulted, PKR showed some recovery despite depleting SBP foreign exchange reserves, it added.
The bourse witnessed 3 sessions in favor of bull while the 2 sessions were in favor of bear. The KSE-100 index oscillated between high and low of 43,555 and 41,356 levels, respectively, before settling the week at 42,861 levels.
From the sector-specific lens, Fertilizer, Banks, Cement Oil & Gas Exploration companies, and Power Generation & Distribution companies kept the index in red territory as they snatched 135, 76, 60, 41, and 29 points from the index respectively.
Contrary to that, Technology, Refinery, Automobile, Oil & Gas Marketing companies, and Food during the week collectively contributed 167 points to the bourse.
Scrip-wise, FFC, EFERT, LUCK, HUBC, and OGDC were the worst-performing stocks during the week as they took away 63, 57, 48, 39, and 30 points from the index respectively. Whereas TRG, MTL, HBL, AVN, CNERGY collectively added 170 points to the index.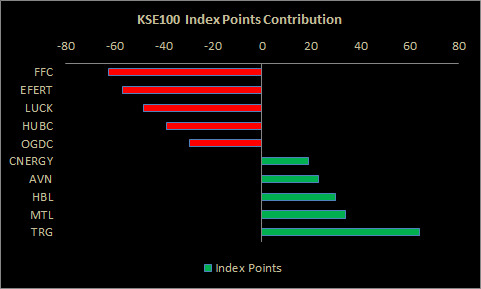 Meanwhile, the KSE All Share market cap decreased by Rs20.2 billion or 0.28% over the week, being recorded at Rs7.12 trillion as compared to a market cap of Rs7.14tr recorded last week.
Flow-wise, foreigners were the net sellers during the week, offloading stocks worth $1.5mn compared to a net sell of $6.1mn last week. Sector-wise, major selling was witnessed in Cement ($1.8mn) and Banks ($1.4mn).
On the local side, the majority of the buying was reported by Individuals and Broker amounting to $11mn and $2.9mn, respectively. However, Insurance Companies and Mutual Funds stood on the other side with net selling of $7.5mn and $7.1mn respectively.
Copyright Mettis Link News
Posted on: 2022-05-29T22:23:32+05:00
33033