October 13, 2021 (MLN):  The US dollar continued its upward journey against the Pakistani Rupee (PKR) as it made a new high for the second consecutive session, appreciating by 9 paisa to close the Wednesday's trade at Rs171.13 in the interbank session.
Despite the series of measures taken by the State Bank of Pakistan (SBP) in order to halt the gaining momentum of the greenback against PKR, the domestic unit is still losing its value in the interbank market. In the previous session, the domestic unit had closed the trade at 171.04 per USD, down by 21 paisa.
The rupee traded within a very narrow range of 25 paisa per USD showing an intraday high bid of 171.20 and an intraday Low offer of 170.95.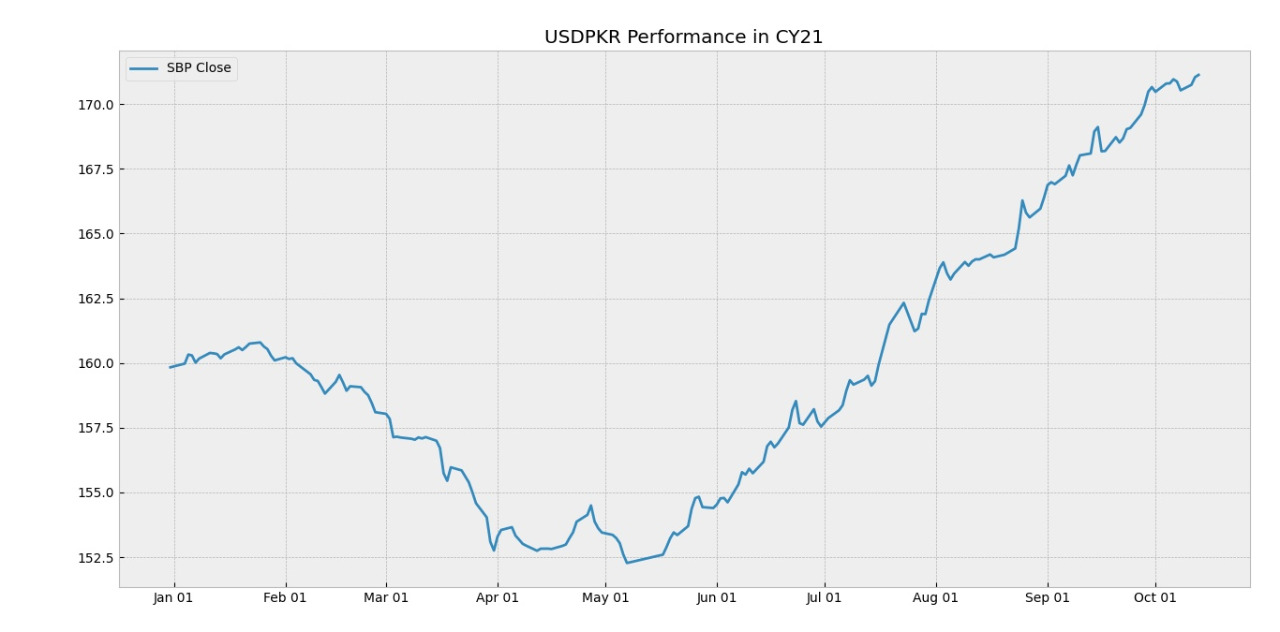 Amid geopolitical situation with regards to Afghanistan, and rising international commodity prices have played well to create havoc in the interbank market. Given the situation, the due pressure on PKR has pushed the speculative behavior of market players which also plunged the value of the rupee.
With regards to the upcoming Eurobond re-payment and its impact on PKR valuation, Asad Rizvi, the former Treasury Head at Chase Manhattan in his early morning tweet said, "Market will be keenly watching the reaction after $ 1 billion Eurobond repayment, as outflow will hit the Foreign Exchange Reserves that could add pressure on PKR."
"News of 1bn Euro aid to Afghanistan could indirectly ease the burden, but more clarity is needed," he added.
Within the Open Market, PKR was traded at 171/171.70 per USD.
As per the data compiled by Mettis Global, the local unit has depreciated by 7.94% or PKR 13.58 in the fiscal year-to-date against the USD. Similarly, the rupee has weakened by 6.60% or PKR 11.29 in CY21, with the month-to-date (MTD) position showing a decline of 0.28%.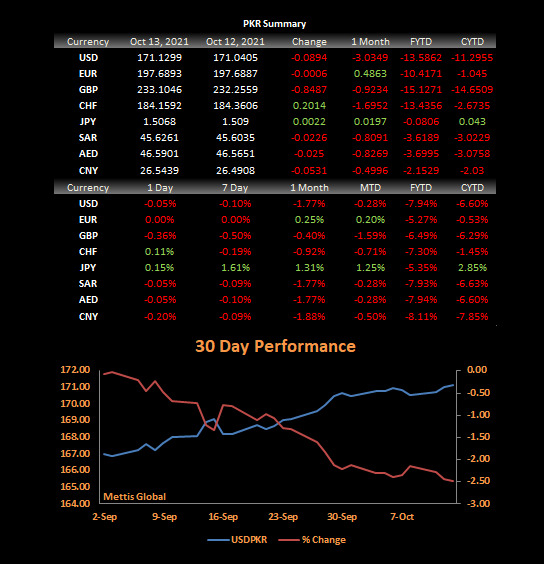 Meanwhile, the currency lost 85 paisa to the Pound Sterling as the day's closing quote stood at PKR 233.1 per GBP, while the previous session closed at PKR 232.26 per GBP.
Similarly, PKR's value remained flat against EUR which closed at PKR 197.69 at the interbank today.
On another note, within the money market, the overnight repo rate towards the close of the session was 7.00/7.20 percent, whereas the 1-week rate was 7.25/7.35 percent.
Copyright Mettis Link News
Posted on: 2021-10-13T16:49:47+05:00
27425