June 07, 2022 (MLN): Maintaining its losing spree, the Pakistani Rupee (PKR) was weighed down on Tuesday due to a delay in the IMF tranche. The domestic unit has depreciated by 2.69 rupees so far in an interbank market against the US Dollar (USD) when compared to the previous close of 200.06.
The dollar was quoted at 202.66/ 202.91 (11:40 PST) with trade reported at 202.75.
Within the open market, the rupee was traded at 202/203.50.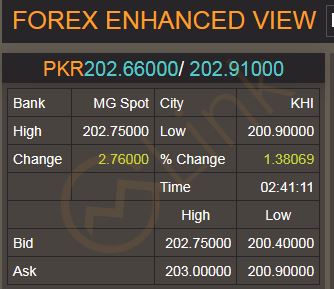 The local unit remained under pressure on speculation that the government could freeze or place restrictions on withdrawals from Foreign Currency Accounts (FCA), Roshan Digital Accounts (RDA) and Safety Deposit Lockers to ease dollar shortages. Hence, PKR concluded yesterday's trade at 200.06 per dollar.
Ministry of finance and the central bank, both refuted such news items circulating on social media, adding that there is no proposal under consideration to put any restriction on them.
"Rumors of restrictions on FCA & RDA further dented the sentiment. Denial should help," Asad Rizvi, the former Treasury Head at Chase Manhattan Bank said on Twitter.
Speaking to Mettis Global, Arsalan Siddiqui, Head of Research at Optimus Capital said about this PKR depreciation," It's a pressure of depleting FX reserves."
However, the successful resumption of the IMF program and other external funding will provide much-needed support to keep the economy afloat, he noted.
Posted on: 2022-06-07T11:42:46+05:00
33244