July 04, 2022 (MLN): Textile exports were recorded at $19.35 billion in the outgoing FY22, showing an upsurge of 26% YoY when compared to $15.41bn in FY21, according to the data issued by All Pakistan Textile Mills Association (APTMA) today.
The year-on-year increase in exports remained strong due to the resumption of economic activities, and strong demand in the West while rerouting orders out of China and regional countries.
In the month of June 2022 alone, textile exports just inched up by 4% YoY to $1.73bn as compared to $1.66bn in June 2021.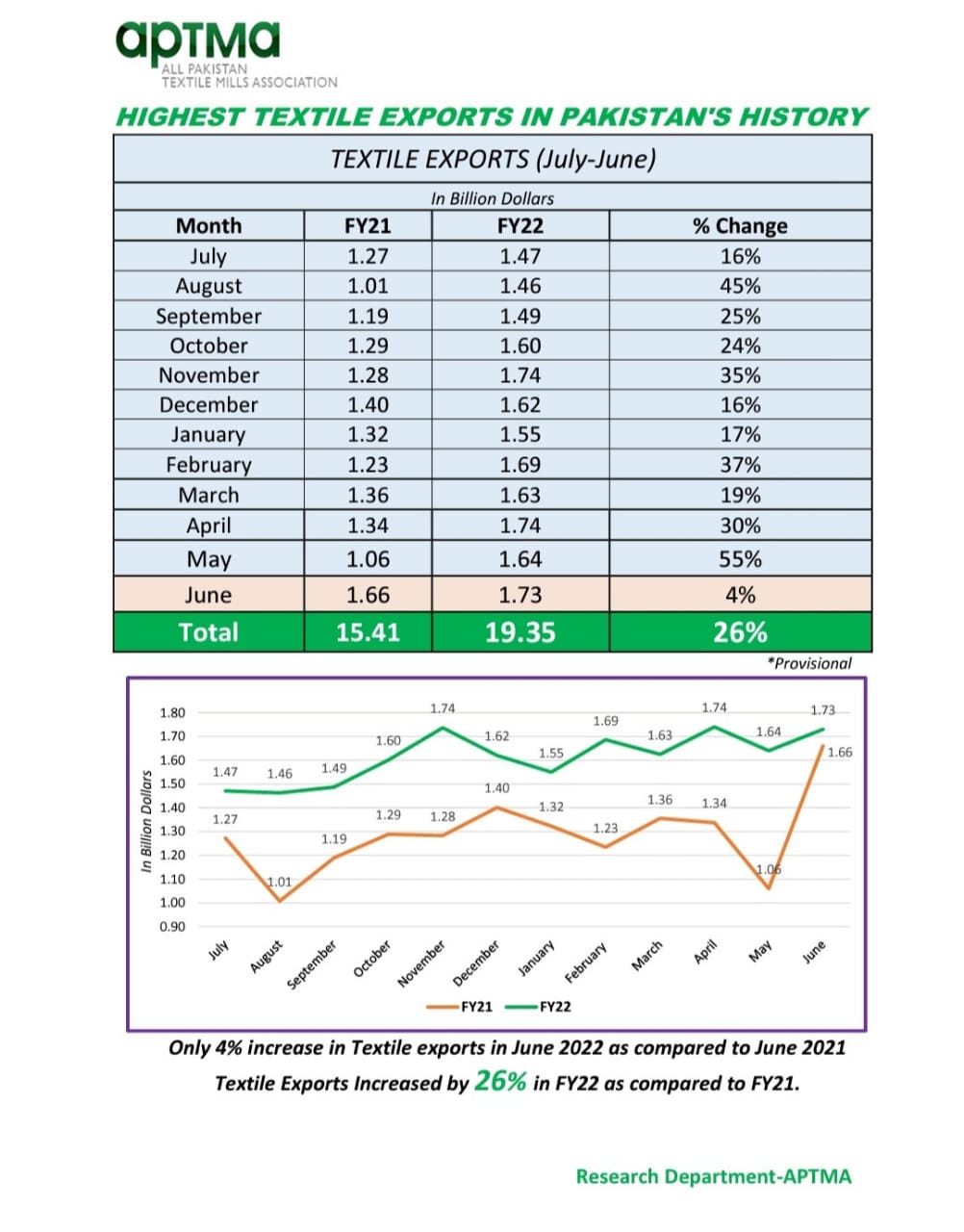 However, the news report suggested that the textile exports will likely witness a loss of $1 billion in July 2022 due to the gas closure and Eid holidays despite being in the sweet spot on the notable depreciation of the Pakistani rupee (PKR) against the US dollar.
The sector will not be provided gas from July 1, 2022, to July 8, 2022. Meanwhile, textile units will observe another shut down on the back of the upcoming Eid holidays.
At present, exporters are unable to negotiate new export orders due to extreme uncertainty with regard to the manufacturing costs to export goods.
Earlier on Tuesday, Chairman of APTMA,  Abdul Rahim Nasir requested Prime Minister Shehbaz Sharif to announce competitive prices of electricity and gas for the textile sector before June 30, 2022, at the earliest as the current tariffs lapsed on the said date.
Copyright Mettis Link News
Posted on: 2022-07-04T18:35:56+05:00
33886