July 01, 2022 (MLN): Energy inflation driven by the withdrawal of fuel and electricity subsidies pushed headline inflation to touch a 13-year high of 21.3% in June 2022 from 13.8% in May 2022 and 9.7% in June 2021, taking a serious toll on consumers' real income.
June's inflation reading accelerated past the market expectation, making a strong case for another rate hike in the upcoming monetary policy.
On a sequential basis, inflation rose by 6.34%, compared with 0.4% in the previous month, powered by a massive rise in fuel prices due to higher international oil prices and the end of subsidies in order to revive the stalled IMF program. This led the transport index to surge by 24.4% MoM on the back of the average increase in petrol and diesel prices by 39% and 48%, MoM, respectively.
The recent data from the PBS confirmed that, in June, there were jumps everywhere on a sequential basis including food group and housing index, thanks to a continuous rise in perishable and non-perishable food items and an increase in energy tariffs.
In broad inflation, the food basket witnessed a 5.5% MoM as visible jumps were seen in the prices of potatoes, eggs, pulses, vegetable ghee, and cooking oil amid higher palm oil prices and the currency depreciation, showing an increase of 12%-35%.
While the housing index (weight: 23.6%) grew by 7.7% MoM as the electricity tariff was increased by 6.08% MoM. The index is expected to increase further in July due to an increase in base tariff by Rs7.9 per unit.
In addition, an increase in beverages also added inflationary outturns in June by 7% MoM due to a continuous rise in the prices of tobacco.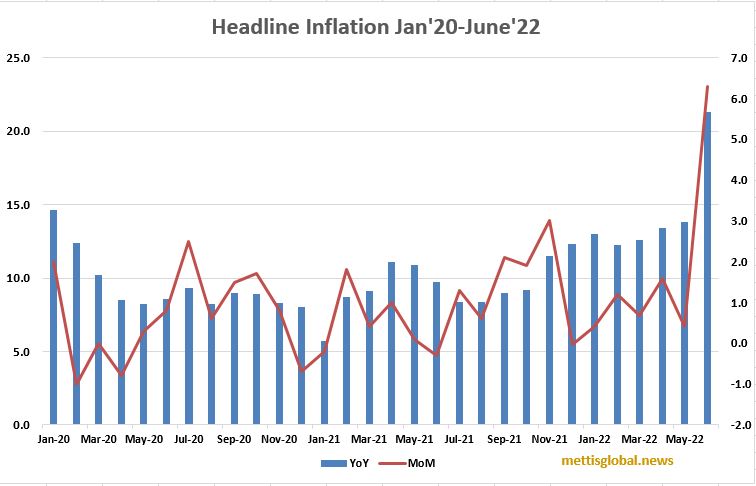 On the yearly basis, the increase in CPI was led by the increase in transport, food, restaurants & hotels, household & equipment maintenance, beverages, miscellaneous, clothing & footwear, and housing index by around 62%, 26%, 22%, 19%, 17.6%, 16%, 13.7% and 13.5%, YoY, respectively.
Region-wise, Urban CPI observed an increase of 6.19% MoM and 19.84% YoY in June 2022 while Rural CPI went up by 6.57% MoM and 23.55% YoY during the said month.
Meanwhile, urban core inflation measured by non-food, non-energy (NFNE) accelerated in June 2022 to 11.5% on yearly basis from 9.7% in the previous month whereas, rural core inflation on YoY increased to 13.6% in the month under review when compared to 11.5% recorded in May 2022.
Outlook
In these unprecedented times, a sharp rise in commodity prices and supply bottlenecks are exerting inflationary pressures on countries that are net importers of oil. Pakistan is also of them which is bearing the brunt of high inflation.
The fiscal year 2022-23 is expected to be a difficult year as headline inflation may settle in between 15-20%, the market expects with the risk tilted to the upside on the back of currency depreciation and rising fuel prices from levies and taxes as the government brings budgetary changes.
This eventual rise of more than decade-high inflation has made some room to increase the policy rate to cool down this inflation.  
Despite SBP's actions regarding enhancing liquidity, more importantly, to align with the proposed fiscal contractionary settings of Budget FY23, the market experts believe that the SBP would raise the policy rate by a further 50-150 bps in the upcoming MPC meeting on the 7th July 2022, in view of higher inflation forecast and likely agreement with the IMF.
While the IMF program remains critical, the conditions leading to a successful IMF Staff level agreement are inflationary in nature due to the resumption of PDL and GST on POL products, rationalizing electricity and gas tariffs, and further monetary tightening, a report by JS Global said.
While the latest Bloomberg report said that the country would probably have to increase the policy rate by 50 bps in the next quarter before it receives IMF cash.
Posted on: 2022-07-01T22:36:03+05:00
33856