December 07, 2021 (MLN): Pakistani rupee (PKR) remained under pressure today owing to the gloomy macros, depreciating by 31 paisa against the US dollar in today's interbank session. The currency closed the trade at PKR 176.79, another all-time low.
On Monday, the local unit managed to gain only 29 paisa to settle the trade at PKR 176.48 per USD.
The market showed no excitement after getting a $3bn deposit as PKR made tiny gains to close 35 paisa stronger, Asad Rizvi, the Former Treasury Head at Chase Manhattan said.
Probably realizing that funds are sort of operating reserves that can only give a temporary boost, but is not good enough to solve structural financial pressures, he added.
During the session, the rupee traded within a range of 70 paisa per USD showing an intraday high bid of 177.20 and an intraday Low offer of 176.50.
As per the Exchange Companies Association of Pakistan (ECAP), PKR gained 30 paisa for buying and lost 30 paisa for selling over the day closed at 177.70 and 178.80 respectively in the open market.
The local unit has depreciated by 10.88% or PKR 19.24 in the fiscal year-to-date against the USD. Similarly, the rupee has weakened by 9.59% or PKR 16.95 in CY21, with the month-to-date (MTD) position showing a decline of 0.60%, as per data compiled by Mettis Global.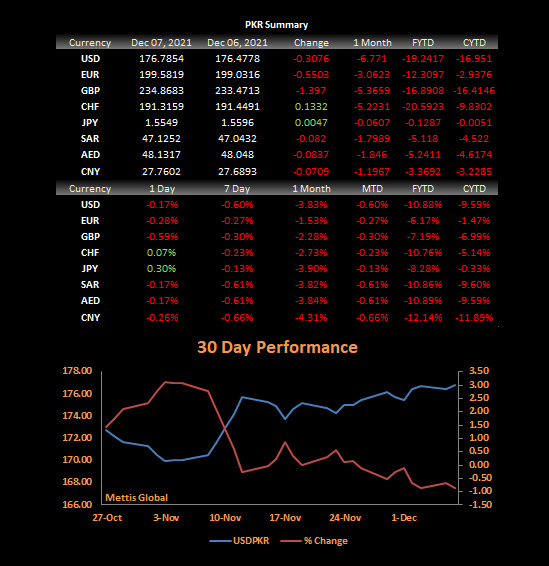 Meanwhile, the currency lost 1.4 rupees to the Pound Sterling as the day's closing quote stood at PKR 234.87 per GBP, while the previous session closed at PKR 233.47 per GBP.
Similarly, PKR's value weakened by 55 paisa against EUR which closed at PKR 199.58 at the interbank today.
On another note, within the money market, the overnight repo rate towards the close of the session was 9.50/9.65 percent, whereas the 1-week rate was 9.05/9.15 percent.
Copyright Mettis Link News
Posted on: 2021-12-07T16:47:16+05:00
29444