July 06, 2022 (MLN): The aura of uncertainty has once again tightened its grip in the interbank market as the Pakistani rupee (PKR) depreciated by 1.1 rupees against the US dollar in today's session to settle the trade at 207.99 per USD, compared to yesterday's closing of PKR 206.94 per USD.
Though the currency managed to gain some ground by 44 paisa against the greenback but no latest development on the IMF front has taken the interbank market towards its traditional downward trail.
Market experts are of the view that lack of confidence in the market has strengthened the element of speculation which resulted in the seesaw pattern.
It is high time that the government should take serious measures to resolve economic issues to halt the currency devaluation.  
Meanwhile, the US dollar is right now being considered a safe haven against all the major currencies in the international market for the fear of recession. Hence, it is natural for PKR to depreciate.
The rupee endured a volatile trading session with quotes being recorded in a range of 1.5 rupees per USD showing an intraday high bid of 208 and an intraday low offer of 207 while in the open market, the local unit was traded at 207.50/209 per USD.
In CYTD, the local unit plummeted by Rs31.48 or 15.14% against the USD while it registered a decline of 1.51% against the greenback in MTD, as per data compiled by Mettis Global.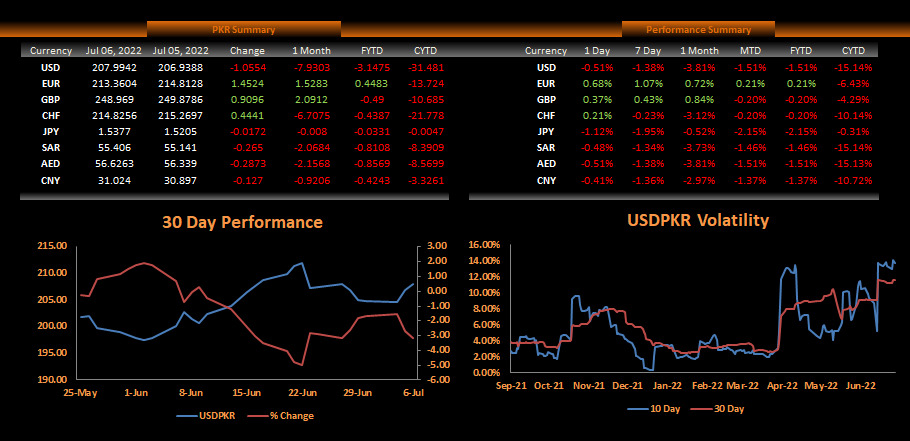 During the last 52 weeks, PKR lost 23.59% against the greenback while reaching its lowest at 211.93 on June 22, 2022, and the highest of 158.92 on July 07, 2021.
Furthermore, the local unit has weakened by 12.04% since its high on July 14, 2021, against EUR, while it has depreciated by 11.99% against GBP since its high on July 07, 2021.

The performance of the local unit remained bleak against other major currencies in MTD as the currency lost its value by 2.15%, 1.51%, 1.46%, 1.37%, 0.20%, and 0.20% against JPY, AED, SAR, CNY, CHF, and GBP. On the other hand, PKR has appreciated by 0.21% against EUR in the same period.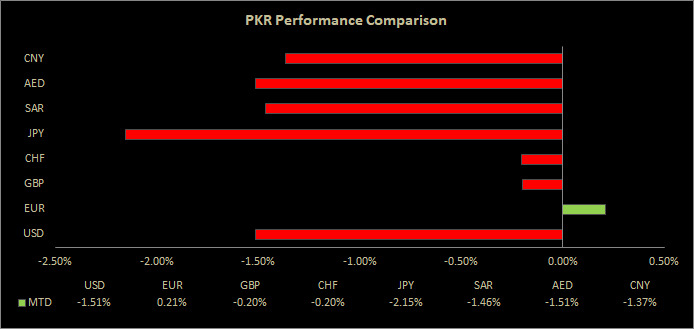 Alternatively, the currency gained 91 paisa against the Pound Sterling as the day's closing quote stood at PKR 248.97 per GBP, while the previous session closed at PKR 249.88 per GBP.
Similarly, PKR's value strengthened by 1.5 rupees against EUR which closed at PKR 213.36 at the interbank today.
On another note, within the money market, the overnight repo rate towards the close of the session was 12.75/12.80 percent, whereas the 1-week rate was 12.90/13.00 percent.
Copyright Mettis Link News
Posted on: 2022-07-06T17:03:07+05:00
33940