May 11, 2022 (MLN): Witnessing a steep decline, the Pakistani rupee (PKR) has made all time new low against US dollar as the currency closed the day's trade at PKR 190.02, sliding by 1.4 rupees compared to previous close of PKR 188.66 per USD.
The rupee endured a highly volatile trading session with quotes being recorded in a range of 1.45 rupees per USD showing an intraday high bid of 190.10 and an intraday low offer of 188.85.
This sharp depreciation is attributed to the prevailing uncertainty on the economic and political front. Particularly, higher oil Import bill and speculation awaiting the Saudi package have created enough pressure around PKR.
According to Asad Rizvi, the former Treasury Head at Chase Manhattan Bank, "Unguarded PKR is directionless that makes everything expensive."
The rupee is hitting all-time new lows on a regular basis which has become very common in recent times. Taming inflation is an uphill task, but the market will remain vulnerable to imports and political uncertainty, he added.
From July'21 to date, the local unit has lost Rs32.47 against the USD. Similarly, the rupee fell by Rs13.50 in CYTD, with the month-to-date (MTD) position showing a drop of 2.28%, as per data compiled by Mettis Global.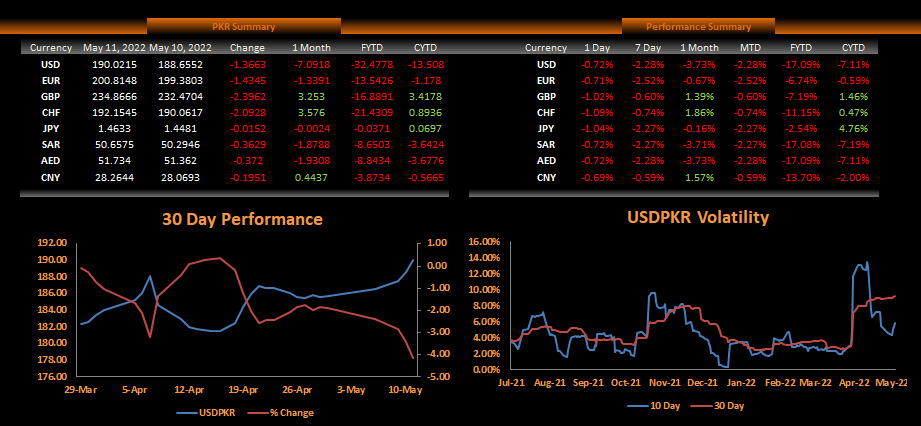 In addition, the performance of PKR remained bleak against major from month to date as it weakened by 2.52%, 2.28%, 2.27%, 2.27%, 0.74%, 0.60%, and 0.59% against EUR, AED, SAR, JPY, CHF, GBP and CNY, respectively.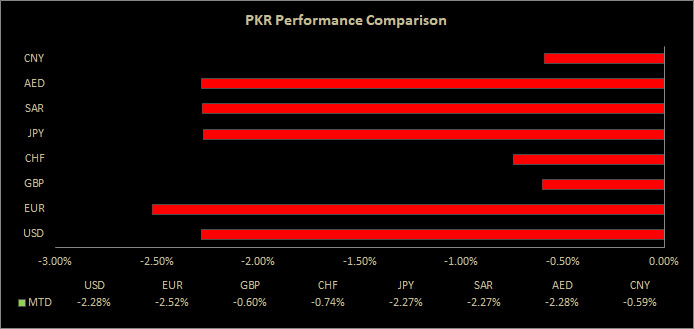 During the last 52 weeks, PKR lost 19.69% against greenback, reached its lowest at 190.02 today and touched its high of 152.59 on May 17, 2021.
Furthermore, the local unit has weakened by 7.72% since its high on May 17, 2021, against EUR.  While, it has dropped by 8.38% against GBP since its high on May 17, 2021.

Within the open market, PKR was traded at 189.50/191.50 per USD.
Meanwhile, the currency lost 2.4 rupees to the Pound Sterling as the day's closing quote stood at PKR 234.87 per GBP, while the previous session closed at PKR 232.47 per GBP.
Similarly, PKR's value weakened by 1.4 rupees against EUR which closed at PKR 200.81 at the interbank today.
The overnight repo rate towards the close of the session was 13.00/13.20 percent, whereas the 1-week rate was 12.65/12.75 percent.
Copyright Mettis Link News
Posted on: 2022-05-11T16:09:50+05:00
32625