September 28, 2021 (MLN): Hitting a series of low records over the last month, the Pakistani Rupee (PKR) on Tuesday closed the trading session at another all-time low of 169.97 against the US Dollar (USD) in an interbank session.
In an early trade today, the rupee lost its ground to breach the 170 level for the first time.
The domestic unit plunged by 37 paisa or 0.22% against its previous closing of PKR 169.6 per USD.
Consistent dollar demand from importers coupled with rising international crude oil prices that widen current account deficit and raise fears of a spike in inflation readings kept the rupee under pressure.
"It will be interesting to see if it closes beyond or below. But this could be the 1st hint that rupee could potentially trade beyond in coming days unless checked," Asad Rizvi, Former Treasury Head-Chase Manhattan Bank tweeted.
Within the Open Market, PKR was traded at 170.00/171.90 per USD. Expressing his concerns on it, he said, "The gap between the interbank market & the KERB market has further widened, creating serious repercussions including inflationary pressure."
The rupee traded within a very narrow range of 35 paisa per USD showing an intraday high bid of 169.95 and an intraday Low offer of 169.70.
According to the data compiled by Mettis Global, the local unit has depreciated by 7.31% or PKR 12.42 in the fiscal year-to-date against the USD. Similarly, the rupee has weakened by 5.96% or PKR 10.13 in CY21, with the month-to-date (MTD) position showing a decline of 2.11%.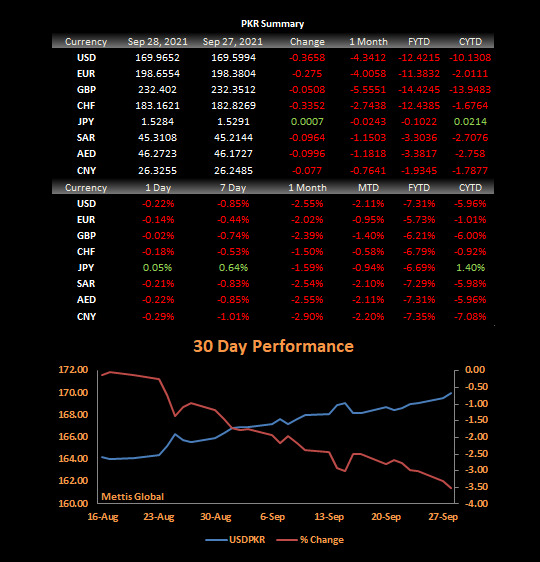 Meanwhile, the currency lost 5 paisa to the Pound Sterling as the day's closing quote stood at PKR 232.4 per GBP, while the previous session closed at PKR 232.35 per GBP.
Similarly, PKR's value weakened by 27 paisa against EUR which closed at PKR 198.66 at the interbank today.
On another note, within the money market, the overnight repo rate towards close of the session was 7.60/7.75 percent, whereas the 1 week rate was 7.40/7.45 percent.
Copyright Mettis Link News
Posted on: 2021-09-28T16:31:02+05:00
27124