November 18, 2021 (MLN): Pakistani rupee (PKR) could not maintain its gaining momentum for more than two days as the currency joined back its depreciating course in today's interbank session and closed the trade at PKR 174.67 while shedding 91 paisa against the US dollar.
To note, the domestic unit had gained 1.1 rupees in yesterday's session, closed at PKR 173.76 per USD.
On the back of prevailing uncertainty on the IMF front as market participants are eagerly waiting to know the conclusion of talks. Meanwhile, the ugly head of inflation is continuously rising in the international markets and knocking on the door of Pakistan's economy. The uncomfortable economic aura is pressing PKR in the interbank market.
From July 2022 to November 18, 2021, the domestic unit shed its value by 17.12 rupees.
The rupee endured a volatile trading session with quotes being recorded in a range of 1.25 rupees per USD showing an intraday high bid of 174.90 and an intraday Low offer of 173.65.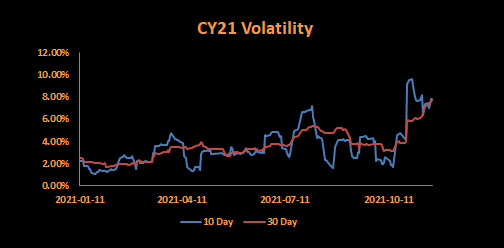 Within the Open Market, PKR was traded at 174.00/175.70 per USD.
The local unit has weakened by 8.49% or PKR 14.83 in CY21, with the month-to-date (MTD) position showing a decline of 1.72%, as per the data compiled by Mettis Global.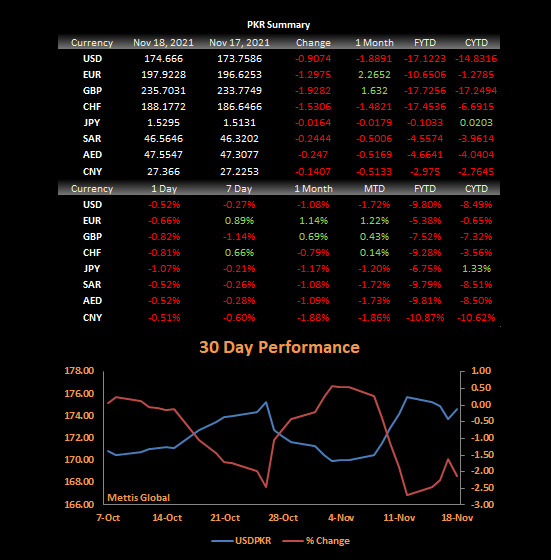 Meanwhile, the currency lost 1.9 rupees to the Pound Sterling as the day's closing quote stood at PKR 235.7 per GBP, while the previous session closed at PKR 233.77 per GBP.
Similarly, PKR's value weakened by 1.3 rupees against EUR which closed at PKR 197.92 at the interbank today.
On another note, within the money market, the overnight repo rate towards the close of the session was 7.25/7.40 percent, whereas the 1-week rate was 7.65/7.80 percent.
Copyright Mettis Link News
Posted on: 2021-11-18T16:44:17+05:00
29157