November 15, 2022 (MLN): Following its yesterday's losing momentum, the Pakistani rupee (PKR) depreciated by 22 paisa against the US dollar in today's interbank session as the currency settled the trade at PKR 221.91 compared to the previous closing of 221.69 per USD.
During the session, the rupee traded in a band of 60 paisa per USD showing an intraday high bid of 222 and low offer of 221.65 while in the open market, PKR was traded at 225.50/227.50 per USD.
Speaking to Mettis Global, Malik Bostan, President of Forex Association of Pakistan said, "Though the government is on its toes to stabilize the value of local unit against the greenback, the delay in foreign inflows is the major reason behind PKR depreciation.
"On the positive note, Finance Minister hinted that the US does not have any objection/opposition now to the purchase of cheap Russian oil which will allow Pakistan to save significant amount of foreign exchange reserves," he added.
In FYTD, PKR lost 17.05 rupees or 7.69%, while it plummeted by 45.39 rupees or 20.46% against the USD in CYTD, as per data compiled by Mettis Global.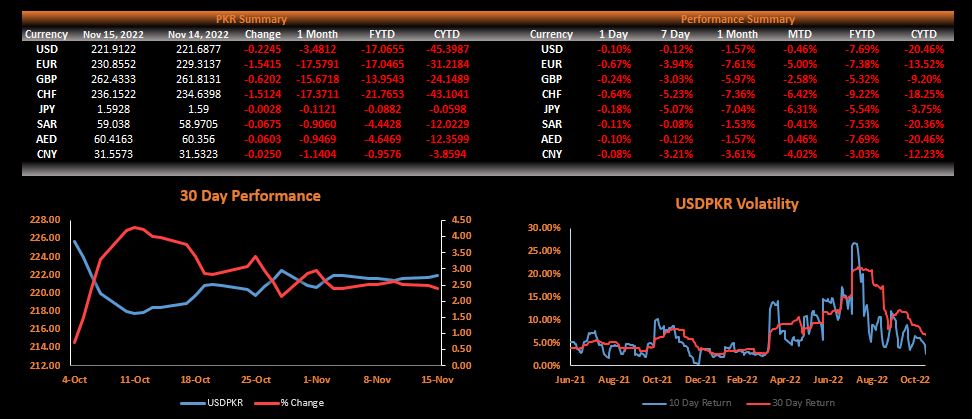 Meanwhile, the currency lost 62 paisa to the Pound Sterling as the day's closing quote stood at PKR 262.43 per GBP, while the previous session closed at PKR 261.81 per GBP.
Similarly, PKR's value weakened by 1.5 rupees against EUR which closed at PKR 230.86 at the interbank today.
On another note, within the money market, the overnight repo rate towards the close of the session was 14.80/15.10 percent, whereas the 1-week rate was 15.04/15.14 percent.
Copyright Mettis Link News
Posted on:2022-11-15T15:30:18+05:00
35867