November 04, 2022 (MLN): The Pakistani rupee (PKR) on Friday settled the trading session relatively unchanged at PKR 221.92 against the US dollar in the interbank session.
After witnessing two consecutive days in a spell of depreciation, the local unit has taken a breather today on account of increasing foreign exchange reserves as the reserves held by the State Bank of Pakistan (SBP) have surged by $1.47 billion to $8.91bn during the week.
This increase in reserves was mainly due to an inflow of $1.5bn from the Asian Development Bank (ADB).
During the session, the rupee traded in a band of 25 paisa per USD showing an intraday high bid of 222 and low offer of 221.10 while in the open market, PKR was traded at 225/227.50 per USD.
During the week, the currency gained 55 paisa against the greenback, as the previous week was concluded at PKR 222.47 per USD.
This rupee started the week on a positive note as it gained 1.84 rupees within two days owing to the back of easing political crises, reduced import demand, and likely supported receipts from World Bank.
Furthermore, during a meeting last Sunday Finance Minister Ishaq Dar with exchange companies, and commercial banks warned the smugglers to stay away from hoarding dollars.
However, on Wednesday, the local unit joined back its downward trail due to import payments, govt relaxation of LCs up to 100,000, and uncertainty over dollar bond restructuring and China debt rollover.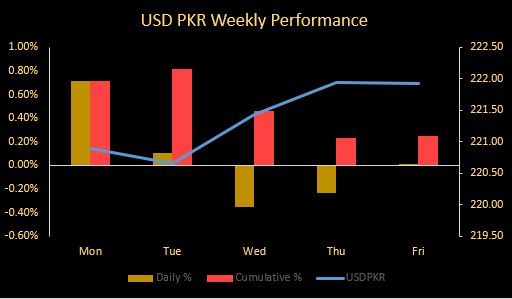 Meanwhile, the currency gained 2.9 rupees against the Pound Sterling as the day's closing quote stood at PKR 248.8 per GBP, while the previous session closed at PKR 251.7 per GBP.
Similarly, PKR's value strengthened by 24 paisa against EUR which closed at PKR 216.83 at the interbank today.
On another note, within the money market, the central bank on Friday injected Rs737.2bn for 63 days into the money market through reverse repo purchase and Shariah-compliant mudarabah-based open market operation.
The overnight repo rate towards the close of the session was 15.00/15.40% whereas the 1-week rate was 15.15/15.25%.
Copyright Mettis Link News
Posted on:2022-11-04T17:28:28+05:00
35755