June 23, 2022 (MLN): In the backdrop of positive news flow regarding the IMF tranche and the upcoming inflow of $2.3 billion from China, the interbank market sentiments turned positive which made the Pakistani rupee (PKR) gain 2.9 rupees in early trade against the greenback.
The local unit is being quoted at 209.06/210.06 per USD [9:45 PST] compared to the previous close of PKR 211.93 per USD.
On Wednesday, the Federal Minister for Finance and Revenue, Miftah Ismail informed the Chinese consortium of banks has signed a $2.3 billion loan facility agreement on Wednesday which will be received by Pakistan within a few days.
Earlier, the IMF and Pakistan reached an understanding pertaining to the amendments in the federal budget for FY23 to revive the bailout package.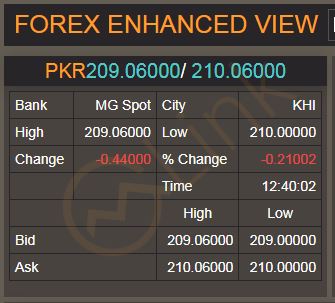 Copyright Mettis Link News
Posted on: 2022-06-23T09:40:48+05:00
33651