May 12, 2022 (MLN): Downhill ride of the Pakistani rupee (PKR) continued in today's interbank session as the currency settled the trade at PKR 191.77 per USD, plummeting by 1.7 rupees compared to yesterday's close of PKR 190.02 per USD.
The rupee endured a highly volatile trading session with quotes being recorded in a range of 1.8 rupees per USD showing an intraday high bid of 191.95 and an intraday low offer of 190.75.
Along with political uncertainty, the delay in IMF's tranche is being considered a major reason behind PKR's freefall.
Speaking to Mettis Global, Zafar Paracha, President of Exchange Companies Association of Pakistan said, "It seems that financial assistance from Saudi Arabia and China is now conditional to the IMF's allocation of $1bn to Pakistan."
He was of the view that all the political parties and establishment should be on the same page with regard to the economic interest of Pakistan. Meanwhile, the government has to take difficult/unpopular decisions to prevent the economy from further damage.
Talking about melting foreign exchange reserves, he said that the reserves have reached an alarming point and if the timely measures will not be taken, the country will have to bear situation like Sri Lanka.
From July'21 to date, the local unit has lost Rs34.22 against the USD. Similarly, the rupee fell by Rs15.25 in CYTD, with the month-to-date (MTD) position showing a drop of 3.17%, as per data compiled by Mettis Global.
In addition, the performance of PKR remained bleak against major currencies in one month as it weakened by 5.08%, 5.6%, 2.64%, and 1.31% against AED, SAR, JPY, and EUR respectively whereas, the local unit appreciated against GBP, CHF, and CNY by 1.28%, 1.22%, and 1.19%, respectively.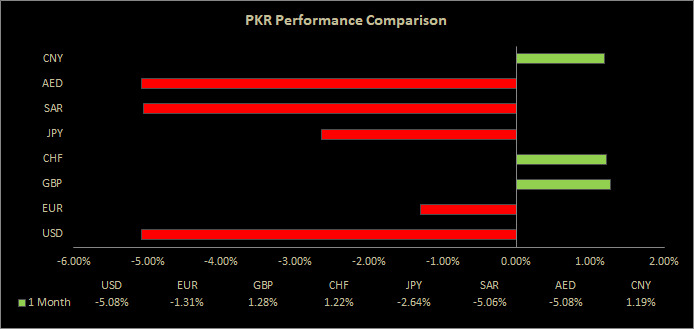 During the last 52 weeks, PKR lost 20.43% against the greenback, reached its lowest at 191.76 today, and touched its high of 152.59 on May 17, 2021.
Furthermore, the local unit has weakened by 7.55% since its high on May 17, 2021, against EUR while, it has dropped by 7.99% against GBP since its high on May 17, 2021.

Within the open market, PKR was traded at 191.50/193 per USD.
Alternatively, the currency gained 1 rupee against the Pound Sterling as the day's closing quote stood at PKR 233.86 per GBP, while the previous session closed at PKR 234.87 per GBP.
Similarly, PKR's value strengthened by 38 paisa against EUR which closed at PKR 200.43 at the interbank today.
On another note, within the money market, the State Bank of Pakistan (SBP) conducted an Open Market Operation (OMO) in which it injected Rs295.2 billion into the market for 1 day at 12.36 percent.
The overnight repo rate towards the close of the session was 12.80/13.10 percent, whereas the 1-week rate was 12.70/12.80 percent.
Copyright Mettis Link News
Posted on: 2022-05-12T16:43:53+05:00
32674