November 01, 2021 (MLN): The upward journey of the Pakistani rupee (PKR) continued on the first day of the week as the currency closed the day's trade at PKR 171.29 per US dollar, strengthening by 36 paisa against last session's closing of PKR 171.65.
It is worth mentioning that during its latest gaining spree of 4 days, PKR appreciated by 3.98 rupees.
The rupee saw a volatile session as it recorded trading in a range of 65 paisa per USD showing an intraday high bid of 171.60 and an intraday Low offer of 170.95.
During the session, PKR gained 70 paisa as the dollar was being quoted at 170.95/171.05 (12:49 PST).
In his early morning Tweet, Asad Rizvi, the former Treasury Head at Chase Manhattan said that there is room for some more PKR recovery.
The traders are keenly looking for a conclusive note from Government and International Monetary Fund (IMF) talks. Commenting on the same, he stated, "As the market waits for IMF press release, it may lose patience if the announcement is delayed this week."
Within the Open Market, PKR was traded at 171.00/172.70 per USD.
According to the data compiled by Mettis Global, the domestic unit has depreciated by 8.02% or PKR 13.74 in the fiscal year-to-date against the USD. Similarly, the rupee has weakened by 6.69% or PKR 11.45 in CY21, with the month-to-date (MTD) position showing a decline of 0.21%.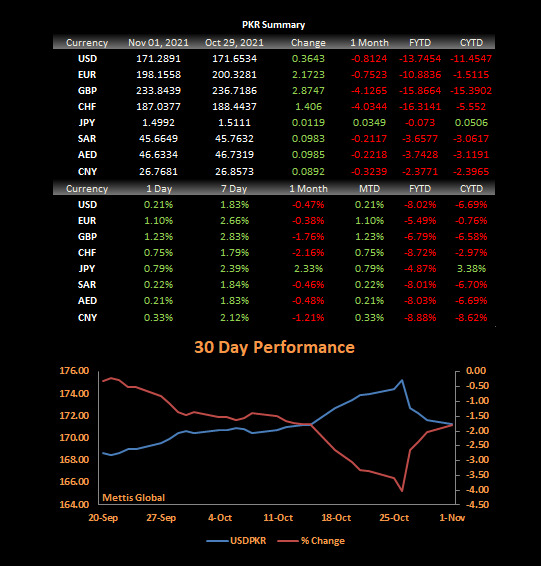 Meanwhile, the currency gained 2.9 rupees against the Pound Sterling as the day's closing quote stood at PKR 233.84 per GBP, while the previous session closed at PKR 236.72 per GBP.
Similarly, PKR's value strengthened by 2.2 rupees against EUR which closed at PKR 198.16 at the interbank today.
On another note, within the money market, the overnight repo rate towards the close of the session was 7.45/7.60 percent, whereas the 1-week rate was 7.40/7.45 percent.
Copyright Mettis Link News
Posted on: 2021-11-01T16:53:33+05:00
27778