April 23, 2022 (MLN): The set of economic challenges has forced the Pakistani rupee (PKR) to slash 5.2 rupees during the outgoing week against the greenback as the currency settled the week's trade at PKR 186.75 per USD, compared to the previous week's close of PKR 181.55.
The local unit witnessed minimal activity in today's session wherein the currency lost only 5 paisa, as per data reported by the State Bank of Pakistan (SBP) on Saturday.
Throughout the week, the domestic unit remained under the pressure on the back of dismal macros including foreign exchange reserves, raging commodity prices and soaring import bill that is enough to mess with the current account balance.
However, in yesterday's session, PKR snapped its losing momentum and gained 27 paisa on the news of an increase in foreign exchange reserves and a notable decline in oil prices in the international market. Meanwhile, market experts are hopeful regarding the resumption of the stalled $6 billion Extended Fund Facility (EFF) programme which will also help PKR to gain some more ground in the interbank market.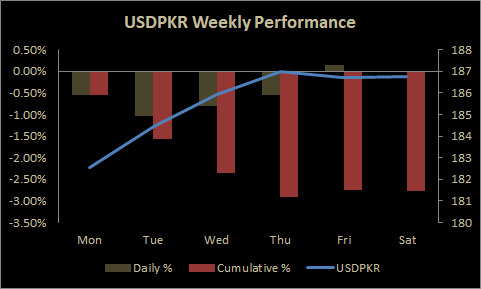 From July'21 to date, the local unit has lost Rs29.20 against the USD. Similarly, the rupee fell by Rs10.23 in CYTD, with the month-to-date (MTD) position showing a drop of 1.75%, as per data compiled by Mettis Global.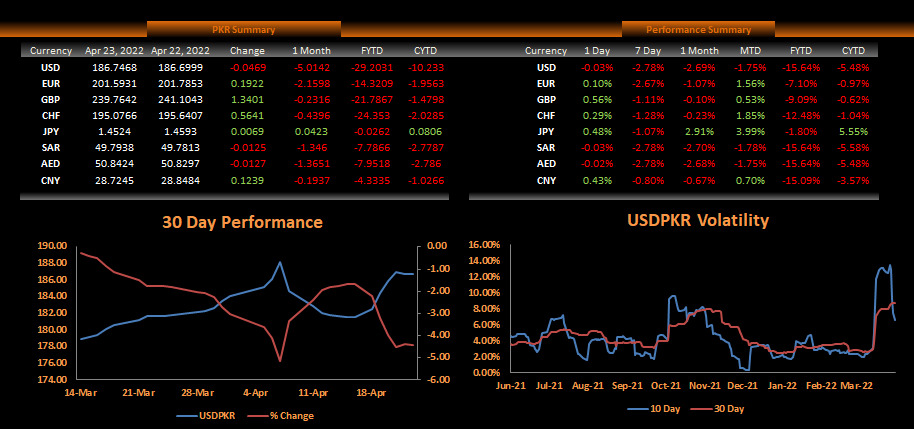 During the last 52 weeks, PKR lost 18.46% against the greenback, reached its lowest at 186.75 today and touched its high of 152.27 on May 7, 2021.
Furthermore, the local unit has weakened by 9% since its high on May 5, 2021, against EUR while, it has dropped by 14.57% against GBP since its high on May 7, 2021.

In addition, the performance of PKR remained bleak against major currencies from the calendar year to date as it weakened by 5.58%, 5.48%, 3.57%, 1.04%, 0.97%, and 0.62% against SAR, AED, CNY, CHF, EUR, and GBP respectively. On the other hand, the local unit has strengthened by 5.5% against JPY.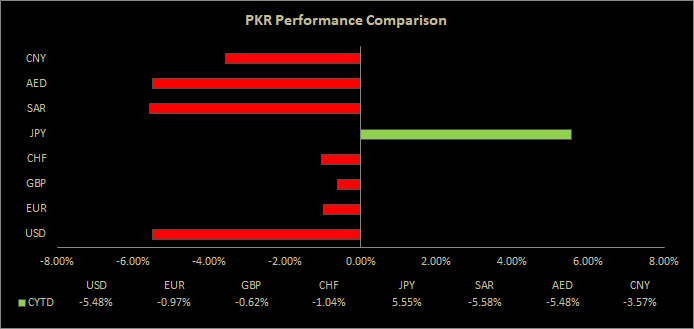 Within the open market, PKR was traded at 186/186.50 per USD.
Alternatively, the currency gained 1.3 rupees against the Pound Sterling as the day's closing quote stood at PKR 239.76 per GBP, while the previous session closed at PKR 241.1 per GBP.
Similarly, PKR's value strengthened by 19 paisa against EUR which closed at PKR 201.59 at the interbank today.
On another note, within the money market, the overnight repo rate towards close of the session was 12.60/12.80 percent, whereas the 1-week rate was 12.25/12.35 percent.
Copyright Mettis Link News
Posted on: 2022-04-23T21:05:00+05:00
32328