June 21, 2022 (MLN): Amid prolonged uncertainty on the economic front, the Pakistani rupee (PKR) is reaching the mark of 212 per US dollar in the interbank market on Tuesday, depreciating by PKR1.74, compared to the previous close of 209.96 per USD. 
The local unit is being traded at 211/211.50 against the greenback with the trades being reported at 211.70 per US dollar.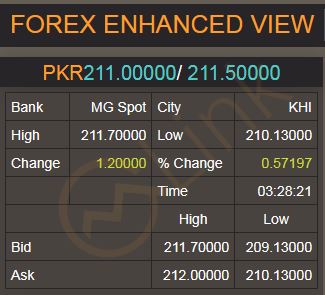 It seems there is no respite for PKR without the most crucial IMF tranche, experts said.
On the back of foreign banks' demand for a 100 percent cash margin on the concerns of melting foreign exchange reserves, the dollar demand in the interbank market has jumped.
In a move to improve the liquidity in the interbank market, the State Bank of Pakistan (SBP) will likely reverse around $590 million to scheduled banks against Cash Reserve Requirement (CRR).
Copyright Mettis Link News
Posted on: 2022-06-21T12:27:38+05:00
33592