January 21, 2022 (MLN): Pakistani rupee (PKR) managed to gain some ground against the US dollar in today's interbank session as the currency closed the week's trade at PKR 176.24, appreciating by 25 paisa against.
The local unit had lost 27 paisa yesterday and settled at PKR 176.49 per USD.
The rupee traded within a very narrow range of 20 paisa per USD showing an intraday high bid of 176.45 and an intraday low offer of 176.20.
Throughout the week the local unit remained stable and weakened by only 17 paisa against the greenback, as the previous week was concluded at PKR 176.07 per USD.
According to Asad Rizvi, the former Treasury Head at Chase Manhattan, PKR will gradually inch up until the IMF announcement. The IMF board meeting is scheduled on January 28, 2022, to revive Pakistan's $6bn bailout package.  Meanwhile, home remittances of $31 billion annually could also ease the pressure on the rupee, he added.
He also noted that a fall in SBP's net reserves by $562mn is huge but an upward revision of GDP growth and REER down to 96.73 should help to reduce the impact on PKR.
"However, a size of $347bn GDP will push tax to GDP lower. Hike in policy rate and record-high SBP profit may bring it closer to 10%," he said.
From July'21 to date, the local unit has lost Rs18.69 against the USD. On the other hand, the rupee appreciated by 27 paisa in CY22, with the month-to-date (MTD) position showing an uptick of 0.16%, as per data compiled by Mettis Global.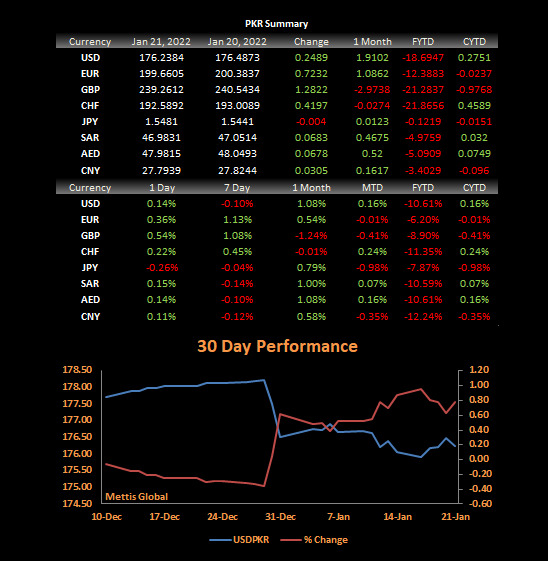 As per the Exchange Companies Association of Pakistan (ECAP), PKR depreciated by 80 paisa for buying and selling over the day closed at 178.30 and 179.30 respectively in the open market.
Meanwhile, the currency gained 1.3 rupees against the Pound Sterling as the day's closing quote stood at PKR 239.26 per GBP, while the previous session closed at PKR 240.54 per GBP.
Similarly, PKR's value strengthened by 72 paisa against EUR which closed at PKR 199.66 at the interbank today.
On another note, within the money market, the State Bank of Pakistan (SBP) conducted an Open Market Operation (OMO) in which it injected Rs430.5 billion into the market for 7 days at 9.9 percent.
The overnight repo rate towards the close of the session was 9.80/9.95 percent, whereas the 1-week rate was 9.65/9.75 percent.
Copyright Mettis Link News
Posted on: 2022-01-21T16:23:00+05:00
30339