November 23, 2021 (MLN): Pakistani rupee (PKR) enjoyed its upward journey on the second consecutive day in the interbank market as the currency closed the day's trade at PKR 174.3 against the US dollar, appreciating by 47 paisa.
 On Monday, the local unit strengthened by the same amount to settle the trade at PKR174.77 per USD.
According to Asad Rizvi, the former Treasure Head at Chase Manhattan said, PKR has made gains on the news of the IMF agreement, but the rally quickly fizzled out as sentiments turned nervous realizing conditions are very demanding.
"The challenge for approval is to meet all demands before its board meeting due in the next seven weeks," he added.
The rupee traded in a range of 70 paisa per USD showing an intraday high bid of 174.80 and an intraday Low offer of 174.10.
Within the Open Market, PKR was traded at 174.70/176.50 per USD.
The domestic unit has depreciated by 9.61% or PKR 16.75 in the fiscal year-to-date against the USD. Similarly, the rupee has weakened by 8.30% or PKR 14.46 in CY21, with the month-to-date (MTD) position showing a decline of 1.52%, as per the data compiled by Mettis Global.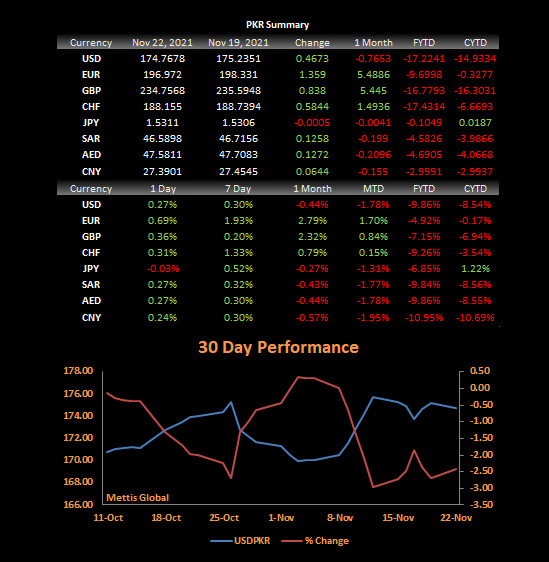 Meanwhile, the currency gained 1.4 rupees against the Pound Sterling as the day's closing quote stood at PKR 233.36 per GBP, while the previous session closed at PKR 234.76 per GBP.
Similarly, PKR's value strengthened by 83 paisa against EUR which closed at PKR 196.14 at the interbank today.
On another note, within the money market, the overnight repo rate towards the close of the session was 9.25/9.50 percent, whereas the 1-week rate was 8.85/8.95 percent.
Copyright Mettis Link News
Posted on: 2021-11-23T17:10:12+05:00
29224