December 06, 2021 (MLN): After enduring a bleak phase of depreciation, the Pakistani rupee (PKR) took a breather against the US dollar today as the currency closed the day's trade at PKR 176.48, appreciating by 29 paisa mainly due to the receipt of a $3 billion deposit from Saudi Arabia under Saudi Fund for Development (SFD).
On Friday, the local unit had closed the trade at PKR 176.77 per USD.
During today's session, the domestic unit traded within a range of 1.5 rupees per USD showing an intraday high bid of 177 and an intraday Low offer of 175.50. The available data shows that PKR's 10-day volatility is coming down while, the 30-day volatility is stabilizing.
The $3 billion deposit from Saudi Arabia is expected to help in reducing currency volatility going forward, Tahir Abbas, the head of research at Arif Habib Limited told The News.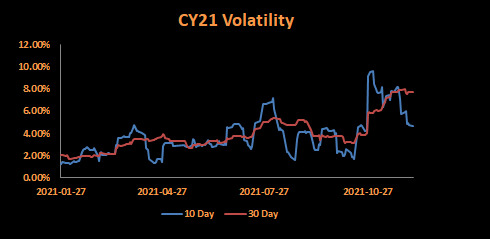 As per the Exchange Companies Association of Pakistan (ECAP), PKR gained 1 rupee for buying and selling over the day closed at 178 and 178.50 respectively in the open market.
The local unit has depreciated by 10.73% or PKR 18.93 in the fiscal year-to-date against the USD. Similarly, the rupee has weakened by 9.43% or PKR 16.64 in CY21, with the month-to-date (MTD) position showing a decline of 0.43%, as per data compiled by Mettis Global.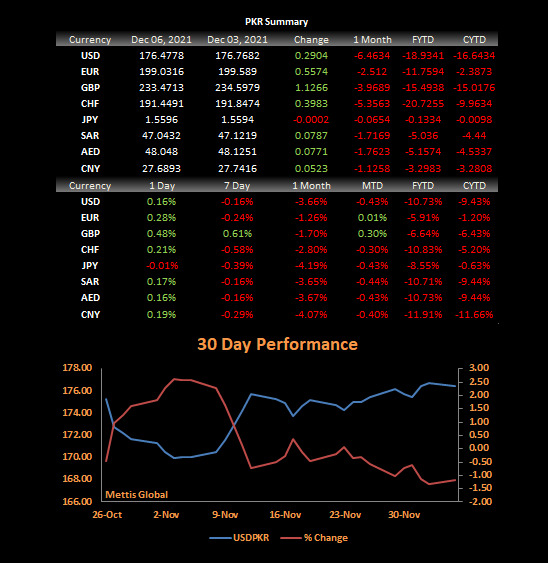 Meanwhile, the currency gained 1.1 rupees against the Pound Sterling as the day's closing quote stood at PKR 233.47 per GBP, while the previous session closed at PKR 234.6 per GBP.
Similarly, PKR's value strengthened by 56 paisa against EUR which closed at PKR 199.03 at the interbank today.
On another note, within the money market, the State Bank of Pakistan (SBP) conducted an Open Market Operation in which it injected Rs.150 billion for 4 days at 9.14 percent.
The overnight repo rate towards the close of the session was 9.50/9.70 percent, whereas the 1–week rate was 8.95/9.05 percent.
Copyright Mettis Link News
Posted on: 2021-12-06T17:24:48+05:00
29425