December 02, 2021 (MLN): Pakistani rupee (PKR) returned to its traditional downward slide against the greenback today after spending two sessions under the gaining spree, depreciating by 95 in the interbank market as the currency closed the day's trade at PKR 176.42 per USD.
The fall in PKR is primarily attributed to the widening trade deficit of $5.107 billion in November'21, which has ballooned by 2.62x YoY compared to the same period last year.
Cumulatively, the local unit had gained 72 paisa during the previous two sessions on the back of a deposit agreement worth $3billion signed between Saudi Fund for Development (SFD), and the State Bank of Pakistan (SBP).
This rising import bill poses a serious threat on the external side while putting pressure on the home currency. As per foreign trade data, imports touched a record high of $8.01bn from $4.12bn recorded in the corresponding month last year, depicting an increase of 94.41%.
Expressing his concerns on the ongoing situation, Asad Rizvi, the former treasury Head at Chase Manhattan said the recent economic trend is very alarming.
"Trade & financial flows has exposed the fiscal & monetary weakness by not mitigating the effects that have clearly jeopardized the economy," he added.
The rupee endured a volatile trading session with quotes being recorded in a range of 1.25 rupees per USD showing an intraday high bid of 176.70 and an intraday Low offer of 175.45.
Within the Open Market, PKR was traded at 176/177.75 per USD.
According to the data compiled by Mettis Global, the local unit has depreciated by 10.70% or PKR 18.87 in the fiscal year-to-date against the USD. Similarly, the rupee has weakened by 9.40% or PKR 16.58 in CY21, with the month-to-date (MTD) position showing a decline of 0.40%.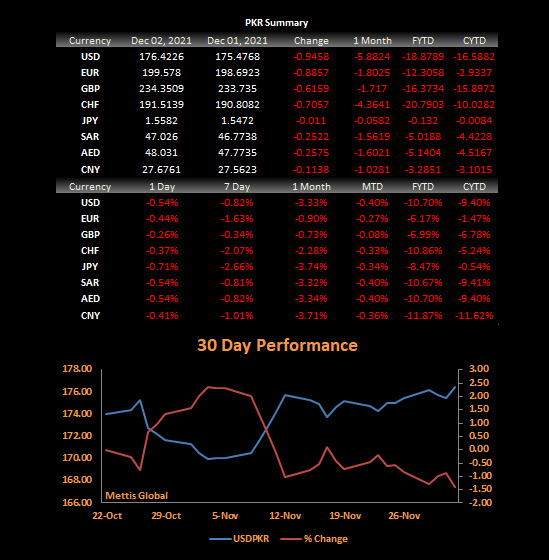 Meanwhile, the currency lost 62 paisa to the Pound Sterling as the day's closing quote stood at PKR 234.35 per GBP, while the previous session closed at PKR 233.74 per GBP.
Similarly, PKR's value weakened by 89 paisa against EUR which closed at PKR 199.58 at the interbank today.
On another note, within the money market, the overnight repo rate towards the close of the session was 8.60/8.75 percent, whereas the 1-week rate was 8.85/8.95 percent.
Copyright Mettis Link News
Posted on: 2021-12-02T15:53:50+05:00
29381