November 09, 2021 (MLN): The mounting pressure of the inconclusive IMF talks has dragged the Pakistani rupee (PKR) to the second consecutive low during this week as the domestic currency settled the day's trade at PKR 171.63, depreciating by 1.1 rupees against greenback.
In the previous session, the local unit closed the trade at PKR 170.51 per USD after losing 50 paisa.
It is important to mention that the Adviser to the Prime Minister on Finance and Revenue Shaukat Tarin announced on November 1, 2021, that agreement pertaining to the revival of the $6 billion Extended Fund Facility (EFF) with the International Monetary Fund (IMF) will be signed later this week.
Market participants are desperately waiting for the final outcome of the IMF discussions. The long delay has created enough disturbance.
Malik Bostan, President Forex Association of Pakistan termed the ongoing situation as a "delaying tactic" by the IMF amid international political pressure.
He highlighted that IMF has posed its concern over the autonomous status of the State Bank of Pakistan. To recall, Pakistan reached an agreement with IMF in March 2021 to grant autonomy to the central bank.
With regards to the outlook of the rupee in the near term, he said, if the international commodity prices start taking a rebound, we would see improvement in PKR's value otherwise, the domestic unit will continue to depreciate."  
The Rupee saw significant volatility in today's session and traded in a range of 1.55 rupees per USD showing an intraday high bid of 172.05 and an intraday Low offer of 170.50.
Within the Open Market, PKR was traded at 172.00/173.50 per USD.
According to the data gathered by Mettis Global, the domestic unit has depreciated by 8.21% or PKR 14.08 in the fiscal year-to-date against the USD. Similarly, the rupee has weakened by 6.87% or PKR 11.79 in CY21, with the month-to-date (MTD) position showing a decline of 0.02%.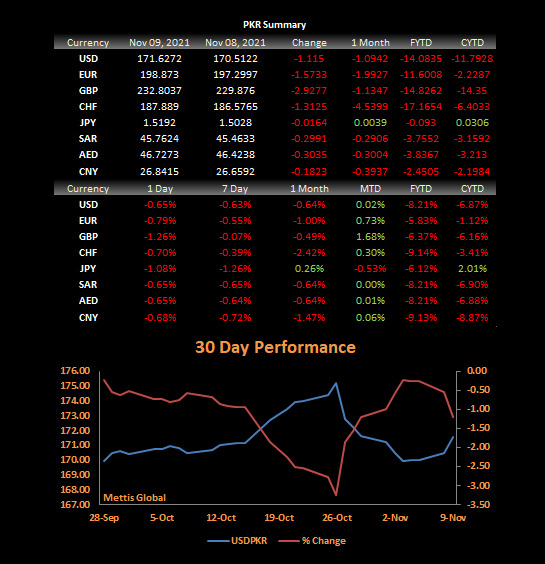 Meanwhile, the currency lost 2.9 rupees to the Pound Sterling as the day's closing quote stood at PKR 232.8 per GBP, while the previous session closed at PKR 229.88 per GBP.
Similarly, PKR's value weakened by 1.6 rupees against EUR which closed at PKR 198.87 at the interbank today.
On another note, within the money market, the overnight repo rate towards the close of the session was 7.60/7.70 percent, whereas the 1-week rate was 7.40/7.50 percent.
Copyright Mettis Link News
Posted on: 2021-11-09T16:41:00+05:00
27974