October 14, 2021 (MLN): While struggling to survive on the slippery slope, the Pakistani rupee (PKR) fell by 7 paisa per US dollar in today's interbank session as the currency closed the trade at PKR 171.2, against yesterday's close of PKR 171.13 per USD.
Yesterday, the domestic unit tested yet another all-time new low of 171.15. The market remained nervous- looking for direction, as PKR was unable to make gains beyond 171, Asad Rizvi, the former Treasury Head at Chase Manhattan said.
All eyes are glued and waiting for the outcome of the delayed 6th review talk with IMF. Pressure on PKR to persist, he noted.
In addition, the US dollar continued to make inroads into the money market, sticking to its gaining streak against the Pakistani Rupee (PKR) in tandem with rising commodity prices and geopolitical scenario.
The rupee saw a volatility-free session as a very little movement was recorded trading in a range of 25 paisa per USD showing an intraday high bid of 171.25 and an intraday Low offer of 171.
Within the Open Market, PKR was traded at 171/172 per USD.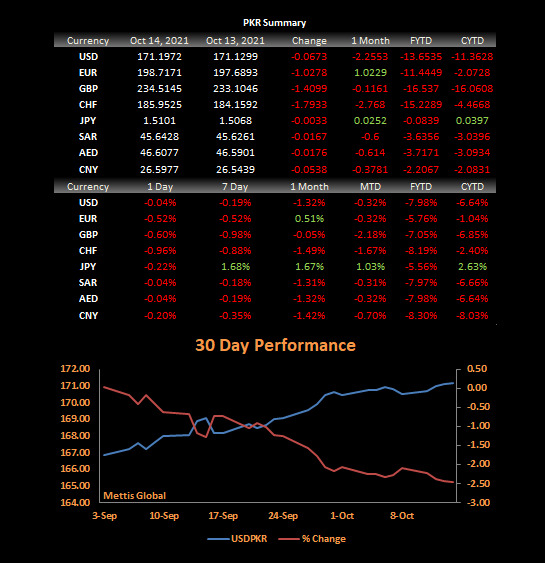 As per the data gathered by Mettis Global, the local unit has depreciated by 7.98% or PKR 13.65 in the fiscal year-to-date against the USD. Similarly, the rupee has weakened by 6.64% or PKR 11.36 in CY21, with the month-to-date (MTD) position showing a decline of 0.32%.
Meanwhile, the currency lost 1.4 rupees to the Pound Sterling as the day's closing quote stood at PKR 234.51 per GBP, while the previous session closed at PKR 233.1 per GBP.
Similarly, PKR's value weakened by 1 rupee against EUR which closed at PKR 198.72 at the interbank today.
On another note, within the money market, the State Bank of Pakistan (SBP) conducted an Open Market Operation in which it mopped up Rs.25 billion for 1 day at 7.24 percent.
The overnight repo rate towards the close of the session was 7.10/7.25 percent, whereas the 1-week rate was 7.30/7.35 percent.
Copyright Mettis Link News
Posted on: 2021-10-14T16:26:54+05:00
27453