November 22, 2021 (MLN): Pakistani rupee (PKR) gained 47 paisa against the greenback in today's interbank session as the currency closed the day's trade at PKR 174.77.
On Friday, the local unit had settled the trade at PKR 175.24 per USD after losing 57 paisa. 
This appreciation is primarily resulted due to the recent development on the IMF front wherein Pakistan and IMF authorities have reached a staff-level agreement on policies and reforms needed to complete the sixth review under the Extended Fund Facility (EFF).
Completion of the review would make available SDR 750 million or about $1.059 billion, bringing total disbursements under the EFF to about $3,027 million and helping unlock significant funding from bilateral and multilateral partners.
PKR could have seen a sharp appreciation but the aforesaid development still requires the approval of the Executive Board, following the implementation of prior actions, notably on fiscal and institutional reforms.
The domestic unit has also reflected a slight advantage owing to the recent hike of 150 basis points in the policy rate.
Expressing his views, Asad Rizvi, the former Treasury Head at Chase Manhattan, in his early morning Tweet said, "Though 150bp Policy Rate Hike gives PKR interest rate differential edge. But this may not be enough to calm market sentiment, as the hike is not due to a booming economy."
The rupee endured a highly volatile trading session with quotes being recorded in a range of 2.7 rupees per USD showing an intraday high bid of 175.20 and an intraday Low offer of 172.50.
Within the Open Market, PKR was traded at 174.70/176.50 per USD.
The domestic unit has depreciated by 9.86% or PKR 17.22 in the fiscal year-to-date against the USD. Similarly, the rupee has weakened by 8.54% or PKR 14.93 in CY21, with the month-to-date (MTD) position showing a decline of 1.78%, as per the data compiled by Mettis Global.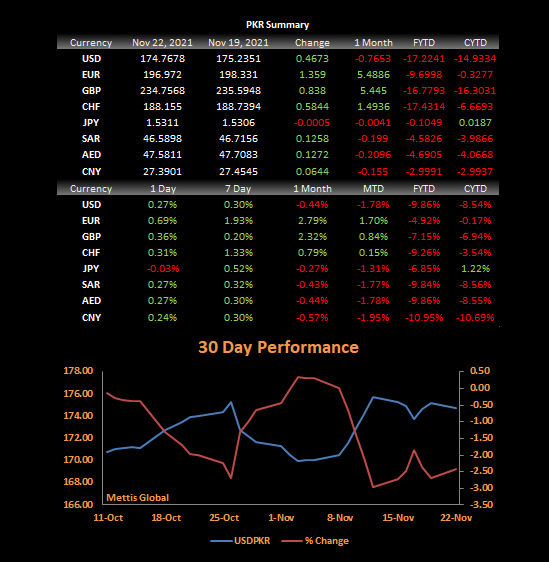 Meanwhile, the currency gained 84 paisa against the Pound Sterling as the day's closing quote stood at PKR 234.76 per GBP, while the previous session closed at PKR 235.59 per GBP.
Similarly, PKR's value strengthened by 1.4 rupees against EUR which closed at PKR 196.97 at the interbank today.
On another note, within the money market, the State Bank of Pakistan (SBP) conducted an Open Market Operation in which it injected Rs.1.8 trillion for 4 days at 8.9 percent.
The overnight repo rate towards the close of the session was 7.65/7.80 percent, whereas the 1-week rate was 7.75/7.85 percent.
Copyright Mettis Link News
Posted on: 2021-11-22T16:59:16+05:00
29204