October 08, 2021 (MLN): Pakistani rupee (PKR) continued to gain some ground in the second consecutive session, appreciating by 34 paisa against US Dollar to close the day's trade at PKR 170.53.
On Thursday, the domestic currency had closed the session at PKR 170.87 per USD.
In his early morning tweet, Asad Rizvi, the Former Treasury Head at Chase Manhattan said, "Since last few days PKR is trading in 170.50-171 band. Yesterday, another all-time high of 171 level was hit for small amount but failed to move beyond.
"On Friday, the Middle Eastern market is closed, hence inflow could be tight. The market will be looking for dollar supply," he added.
The rupee endured a relatively dull trading session with very little intraday movement, trading in a range of 45 paisa per USD showing an intraday high bid of 170.75 and an intraday Low offer of 170.30.
During the week, the currency has lost 6 paisa against the greenback, as the previous week was concluded at PKR 170.48 per USD.
Within the Open Market, PKR was traded at 169.50/171.20 per USD.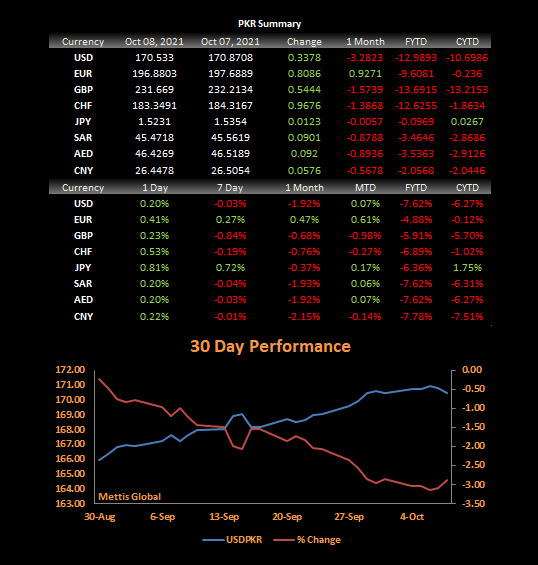 As per the data gathered by Mettis Global, the local unit has depreciated by 7.62% or PKR 12.98 in the fiscal year-to-date against the USD. Similarly, the rupee has weakened by 6.27% or PKR 10.69 in CY21, with the month-to-date (MTD) position showing a decline of 0.07%.
Meanwhile, the currency gained 54 paisa against the Pound Sterling as the day's closing quote stood at PKR 231.67 per GBP, while the previous session closed at PKR 232.21 per GBP.
Similarly, PKR's value strengthened by 81 paisa against EUR which closed at PKR 196.88 at the interbank today.
On another note, within the money market, the State Bank of Pakistan (SBP) conducted an Open Market Operation in which it injected Rs.2.17 trillion for 7 days at 7.33 percent.
The overnight repo rate towards close of the session was 7.35/7.45 percent, whereas the 1-week rate was 7.25/7.35 percent.
Copyright Mettis Link News
Posted on: 2021-10-08T16:15:51+05:00
27331