September 17, 2021 (MLN): Pakistani rupee (PKR) successfully managed to hold the ground in the second consecutive session against US dollar as the currency closed the day's trade at PKR 168.19.
Yesterday, the sudden gain in PKR's value against greenback in the interbank market has left speculators in a perplexed situation.
"SBP prohibits free movement of currencies and due to regular reporting & better control of the central bank, exchange companies have no room to maneuver," Asad Rizvi, the Former Treasury Head at Chase Manhattan said lately.
While expressing his views over the ongoing situation, he stated, "Weak PKR & Rate Hike is deadly combination. Our Fragile Economy demands space for recovery."
"Covid inflation is relatively complacent approach to agriculture sector. Policy makers should sense the urgency," he added.
The rupee saw a volatility free session as very little movement was recorded trading in a range of 60 paisa per USD showing an intraday high bid of 168.30 and an intraday Low offer of 167.70.
During the week, the currency has lost 17 paisa against the greenback, as the previous week was concluded at PKR 168.02 per USD.
Within the Open Market, PKR was traded at 168.30/169.50 per USD.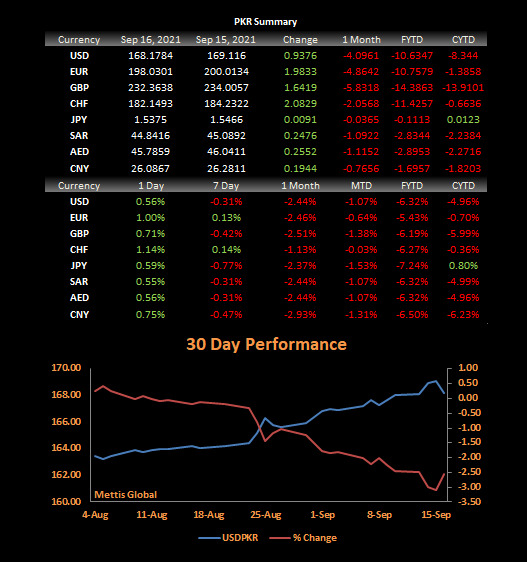 The domestic unit has depreciated by 6.33% or PKR 10.64 in the fiscal year-to-date against the USD. Similarly, the rupee has weakened by 4.97% or PKR 8.35 in CY21, with the month-to-date (MTD) position showing a decline of 1.07%, as per data compiled by Mettis Global.
Alternatively, the currency gained 18 paisa against the Pound Sterling as the day's closing quote stood at PKR 232.19 per GBP, while the previous session closed at PKR 232.36 per GBP.
On the other hand, PKR's value weakened by 6 paisa against EUR which closed at PKR 198.09 at the interbank today.
On another note, within the money market, the State Bank of Pakistan (SBP) conducted an Open Market Operation in which it injected Rs.2.1 trillion for 7 days at 7.1 percent.
The overnight repo rate towards close of the session was 7.10/7.20 percent, whereas the 1 week rate was 7.10/7.15 percent.
Copyright Mettis Link News
Posted on: 2021-09-17T16:41:03+05:00
26917