May 19, 2022 (MLN): In a crushing blow, the Pakistani rupee (PKR) has further depreciated by 1.6 rupees against the US dollar in today's interbank session as the currency settled the trade at PKR 200 per USD compared to the previous close of 198.39.
While enduring a bumpy session, the rupee traded in a range of 1.1 rupees, witnessing an intraday high bid of 200 and an intraday low offer of 199.90.
The government's confusion while taking economic decisions has resulted in lousy outcomes and the situation created enough panic amongst the market participants. Meanwhile, the dollar hoarding and speculative elements have added more fuel to the fire.
From July'21 to date, the local unit has lost Rs42.45 against the USD. Similarly, the rupee fell by Rs23.48 in CYTD, with the month-to-date (MTD) position showing a wither of 7.15%, as per data compiled by Mettis Global.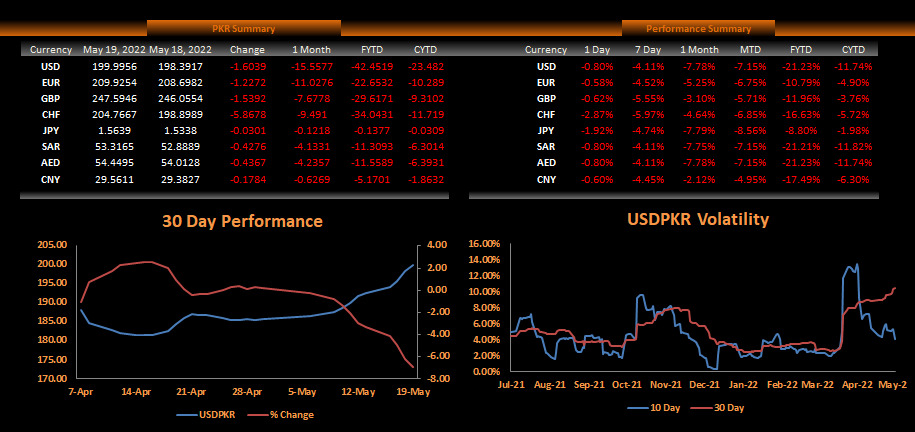 During the last 52 weeks, PKR lost 23.32% against the greenback, reached its lowest at 199.99 today, and touched its high of 153.22 on May 19, 2021.
Furthermore, the local unit has weakened by 11.02% since its high on July 02, 2021, against EUR.  While, it has dropped by 12.54% against GBP since its high on May 20, 2021.

In addition, the performance of PKR remained bleak against major currencies in the calendar year to date as it weakened by 11.82%, 11.74%, 6.30%, 5.72%, 4.90%, 3.76%, and 1.98% against SAR, AED, CNY, CHF, EUR, GBP, and JPY, respectively.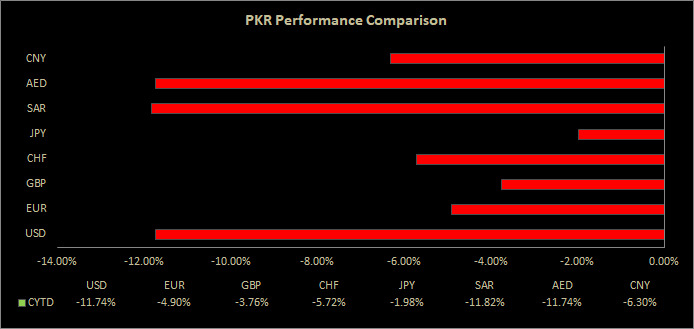 Within the open market, PKR was traded at 199.50/201.50 per USD.
Meanwhile, the currency lost 1.5 rupees to the Pound Sterling as the day's closing quote stood at PKR 247.59 per GBP, while the previous session closed at PKR 246.06 per GBP.
Similarly, PKR's value weakened by 1.2 rupees against EUR which closed at PKR 209.93 at the interbank today.
On another note, within the money market, the overnight repo rate towards the close of the session was 12.25/12.50 percent, whereas the 1-week rate was 12.35/12.45 percent.
Copyright Mettis Link News
Posted on: 2022-05-19T17:23:48+05:00
32837