August 1, 2022, (MLN): Pakistan's imports have reduced to $5 billion in the month of July according to FBR data, compared to $7.7bn in June, Finance Minister Miftah Ismail said in a tweet on Sunday.
"Given that we have pulled Pakistan back from the brink of default, our government is determined to minimize the large current account deficit left by the previous government", he added.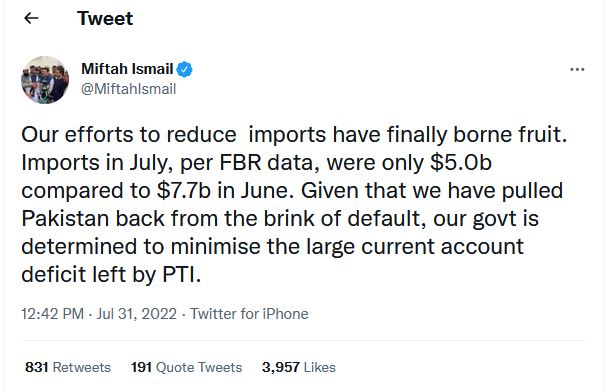 He further stated that the government's efforts to reduce imports have now finally started showing results and the government is keen to work on making the economic crisis less.
As per the PBS data, the major contribution to June's import bill came from oil imports which were recorded at $3.69 billion in June 2022, 2.46x higher than June 2021.
Cumulatively during FY22, it touched a historic high of $23.31bn, up by 2x YoY amid a 71% YoY jump in Arab Light prices along with 19% YoY volumetric growth.
Finance Minister and SBP in their latest joint statement issued yesterday said that after the surge in energy imports in June, a stock of diesel and furnace oil sufficient for 5 and 8 weeks, respectively, is now available in the country, much higher than the normal range of 2 to 4 weeks in the past. This implies a lower need for petroleum imports going forward.
"Overall, imports are expected to decline in coming months due to a decline in global commodity prices, the higher oil stock, the unfolding impact of higher domestic prices of petroleum products, adjustments in electricity and gas tariffs, the removal of tax exemptions under the FY23 budget, administrative measures are taken to curtail imports, and the lagged impact of the monetary and fiscal tightening that has been undertaken."
Copyright Mettis Link News
Posted on: 2022-08-01T12:15:18+05:00
34381