November 30, 2021(MLN): Brent crude is likely to hit $125 per bbl in 2022 and $150 per bbl in 2023 on the back of persisting supply distortion as the supply is mainly controlled by OPEC+, JP Morgan said in a report issued on Monday.
The supercycle analysis performed by JP Morgan implies brent crude at $90/bbl in 2022 and $104/bbl in 2023, exiting 2022 and 2023 at $95 per bbl and $110 per bbl respectively.
However, if the upside three key risk factors include market readjusting to the real spare capacity, slower-than-anticipated supply response to higher prices, and inflation hedging, if all realized simultaneously could imply prices of $150/bbl in 2023.
As per the estimations performed by the bank, OPEC+ production capacity is 2.0mb/d below consensus expectations in 2022 and is set to miss planned capacity growth by up to 3mb/d in 1H24.
The report said, "We reflect this reality in our Supercycle model, and assume capacity-led shortfalls vs our JPM Commodities OPEC+ production forecasts of 350kb/d (2022/23 avg)."
This is a potential catalyst to the market recognizing 'true' OPEC+ spare capacity, which could command a $20/bbl OPEC spare capacity premium vs current prices, it added.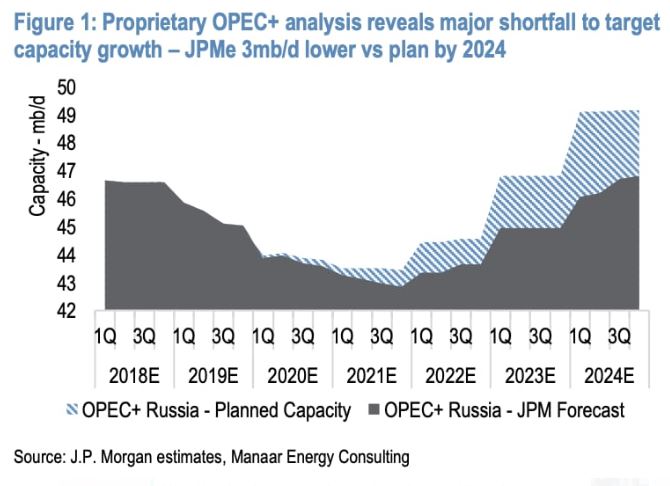 Commenting over the supply control by OPEC, the report underlined, "when OPEC is in the driving seat, a 5% fall in spare capacity towards this 10% 'comfort level' has historically been worth an additional $20/bbl on oil prices."
Meanwhile, a slower-than-anticipated supply response to higher prices on continued demand uncertainty.
According to the analysis, investment actually responds with higher prices. If spending growth proves 'stickier' than forecast, for instance, accelerated energy transition requirements shift more capital away from oil, continued uncertainty over new COVID variants hamper spending growth as supply will not meet demand.
This would have the effect of raising LT prices above $80/bbl and also increase near-term supply deficits in 2022/23. If 2022/23 global oil spend does not rise above current projections (set at the current forward curve of LT $65/bbl), the modeled 2023 deficit of 0.7mb/d could increase by 130kb/d (little impact in 2022).
This increases the 2023 implied oil price to $109/bbl (exiting 2023 at $120/bbl), the report noted.
The report also anticipated that inflation may persist due to supply frictions from reopening and accommodative monetary policy.
If portfolio managers reposition portfolios to hedge, the interplay of low market liquidity, systematic and macro/fundamental flows and the sheer size of financial assets may cause an outsized impact on asset classes such as oil and the energy equities, it added.
Copyright Mettis Link News
Posted on: 2021-11-30T16:16:48+05:00
29333