September 28, 2021 (MLN): Oil and Gas Development Company Limited (OGDCL) is the largest E&P Company in Pakistan with a diversified production base, where 70% of oil
and gas production emanating from 6 and 3 fields, respectively, as opposed to a more concentrated production base of other players.
The Company contributes around half of the crude oil and over a quarter of natural gas production towards the total domestic output.
The company recently disclosed its financial performance for FY21, where the company managed to earn a profit after tax of Rs91.53bn which was slightly 9% YoY lower than the net profits of Rs100.9bn reported in the last fiscal year. The company was unable to demonstrate the growth in net profits despite the modest surge in international oil prices along with PKR depreciation against the USD.
Alongside financial results, the company also announced a cash dividend of Rs6.9 per share i.e., 69% for FY21.
Looking at the company's financial performance, despite the global economic recovery and uptick in demand for oil & gas, the oil and gas E&P giant saw its revenues grow by a slight 2.6% YoY to Rs239bn in FY21. The increase in revenues has come largely from a surge in oil prices by 3% YoY and an increase in oil production by 2% YoY. However, a dip in gas production by 4% YoY kept the company's revenues in check.  To note, Arab Light, WTI and Brent avg. prices during FY21 stood at USD 53.6/bbl, USD 52.2/bbl, and USD 54.9/bbl, respectively.
The expense side also played a key role in declining the earnings for OGDCL. Where the operating expenses that account for over 26% of net sales jumped by Rs4.8bn or 7.4% YoY to Rs70bn mainly on account of salaries, wages and benefits and workover charges. while transportation charges soared by 10.4% YoY to Rs1.75bn. However, a decline in general and administrative expenses, finance cost and workers' profit participation fund by 8%, 26.79% and 10.6% YoY respectively provided some respite to the company's earnings.
The gross margin of the company came in at 58% compared to 59% in FY20.
Looking at the last 10 years particularly, the company has mostly seen a growing topline, except for FY15, FY16 and FY20, when it contracted by 18%, 23% and 11% respectively. Gross Profit margins show a mixed trend. After reaching a peak in FY13, profit margin followed a downward trend and reached its lowest in FY17, since then it started to grow gradually.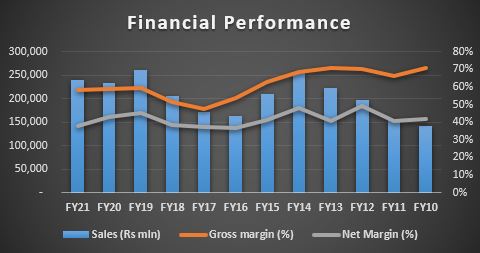 On the exploration front, OGDC has been aggressive and has been the most active covering 45% of the total area under exploration, comprising of 50 owned and JV exploration licenses and working interest in 8 non-operated blocks. During FY21, the exploration and prospecting expenditures of the company came down by 4.6% YoY mainly due to smaller exploration activities and lower dry wells incurred versus last year.
Looking at the Company's exploration history, OGDC has not made sizeable discoveries recently compared to the past discoveries like Qadirpur, Nashpa, Kunar and Pasakhi wells. However, OGDC has spent around Rs75Bn over FY10 – 9MFY21 (excluding the cost of dry wells) for geological and prospecting expenditure, drilling 134 exploratory wells in this period, a report by Taurus Securities cited.
Going by the report, OGDC has reported 48 new oil and gas discoveries since FY10, along with 6 new discoveries in the outgoing fiscal year. The earnings impact of discoveries during FY21 is estimated to be Rs0.60/share. The reported discoveries have an expected cumulative daily production of 18 MMSCF of gas and 849 bbl. of oil, respectively, with estimated reserves of 10.32 MMBOE.
Moreover, recent gas and condensate discovery in Wali block, KPK is likely to be a sizeable discovery with expected oil and gas flows of 11.8 MMSCFD and 945 bpd, respectively. The estimated EPS impact of this discovery alone is Rs0.55/sh, it added.
The Other income of the company went down by 59% YoY to Rs13.979mn mainly due to a fall in interest income from cash and cash balances. On the taxation front, the effective tax rate came in at 29% compared to 30% in FY20.
Overall, the result is broadly in line with market expectations. According to Intermarket Securities, the lower–than–expected payout points to cash–flow constraints, even though circular debt build-up has significantly slowed and other Energy sector companies improved their payouts in 4QFY21 results. One plausible reason could be commitments for exploration, including investment in the recently acquired exploratory block in Abu Dhabi.
Profit and Loss Account for the year ended June 30, 2021 ('000 Rupees)

 

Jun-21

Jun-20

% Change

Sales – net

                           239,103,553

                           232,925,243

2.65%

Royalty

                           (27,422,366)

                           (27,626,096)

-0.74%

Operating expenses

                           (70,177,394)

                           (65,330,327)

7.42%

Transportation charges

                             (1,757,577)

                             (1,592,125)

10.39%

 

                           (99,357,337)

                           (94,548,548)

5.09%

Gross profit

                           139,746,216

                           138,376,695

0.99%

Finance and Other income

                             13,978,973

                             33,816,135

-58.66%

Exploration and prospecting expenditure

                           (17,366,187)

                           (18,213,438)

-4.65%

General and administration expenses

                             (4,668,110)

                             (5,070,904)

-7.94%

Finance cost

                             (2,204,774)

                             (3,011,454)

-26.79%

Workers' profit participation fund

                             (6,788,755)

                             (7,597,981)

-10.65%

Share of profit in associate – net of taxation

                               6,288,982

6062575

3.73%

Profit before taxation

                           128,986,345

                           144,361,628

-10.65%

Taxation

                           (37,451,921)

                           (43,423,735)

-13.75%

Profit for the period

                             91,534,424

                           100,937,893

-9.32%

Basic and diluted earnings per share – Rupees)

                                        21.28

                                        23.47

-9.33%
Copyright Mettis Link News
Posted on: 2021-09-28T15:27:01+05:00
27122