November 26, 2021 (MLN): The Pakistani rupee (PKR) took a beating on Friday as it traded a record low of 176.8 in an intra-day against the US dollar (USD) before closing at 175.46 after the country's foreign exchange reserves hit an eight-month low of $22.77 billion as of November 19, 2021.
The local unit weakened by 47 paisa when compared to the previous day's close of 174.98 against the greenback.
In the backdrop of a $691 million decline in SBP's reserves during the week ended November 19, 2021, mainly due to external debt repayment, created pressure on the rupee.
Speaking of this decline in reserves, Asad Rizvi, Treasury Head Chase Manhattan Bank said, "The drop since August is worrisome. Early $3bn loan from Saudi Arabia may help, but will not be enough to attain crucial $20bn number unless IMF funding is released earlier, as higher imports will add pressure on forex reserves and PKR."
Meanwhile, Information Minister Fawad Chaudhary said on Thursday that all legal formalities have been completed in the transfer of $3bn from Saudi Arabia, adding that Kingdom has also announced to start direct flights from Pakistan.
Commenting on the same, Ali Khizar, an Economist, stated that deposits and deferred oil payments from Saudi Arabia are good for foreign exchange reserves as these inflows are likely to ease off some of the pressure on the rupee.
On contrary, travel opening to Saudi will negatively affect for country's reserves and domestic currency as this announcement is a potential risk to low remittances and higher foreign currency demand from the open market.
During the week, the currency has lost 22 paisa against the greenback, as the previous week was concluded at PKR 175.24 per USD.
Within the open market, PKR was traded at 177.50/179.00 per USD.
The local unit has depreciated by 10.21% or PKR 17.91 in the fiscal year-to-date against the USD. Similarly, the rupee has weakened by 8.90% or PKR 15.62 in CY21, with the month-to-date (MTD) position showing a decline of 2.17%, as per the data compiled by Mettis Global.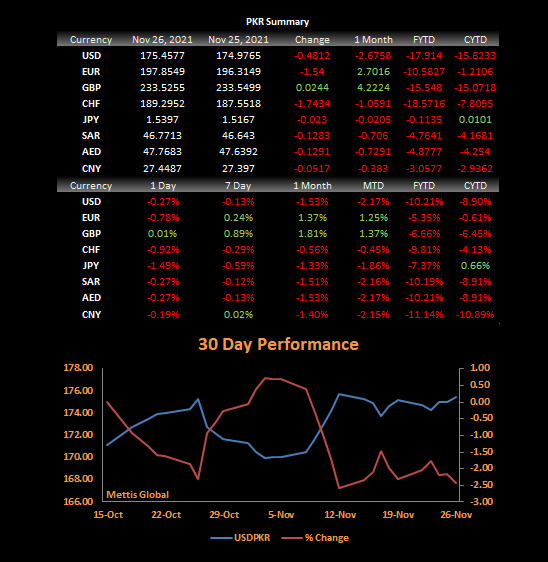 Alternatively, the currency gained 2 paisa against the Pound Sterling as the day's closing quote stood at PKR 233.53 per GBP, while the previous session closed at PKR 233.55 per GBP.
On the other hand, PKR's value weakened by 1.5 rupees against EUR which closed at PKR 197.85 at the interbank today.
On another note, within the money market, the State Bank of Pakistan (SBP) conducted an Open Market Operation (OMO) in which it injected Rs.1.78 trillion for 7 days at 8.91 percent.
The overnight repo rate towards close of the session was 9.00/9.10 percent, whereas the 1 week rate was 8.85/8.95 percent.
Copyright Mettis Link News
Posted on: 2021-11-26T16:57:20+05:00
29285