March 29, 2022 (MLN): During February 2022, almost all Shariah Compliant Income Funds stood firm to the objective of delivering a promising rate of return by leaving their benchmark rate far behind by a substantial margin compared to its counterparts.
The benchmark for these funds in February was set at 3.28% after taking the average 6-month deposit rates of three 'A-rated' Islamic Banks, selected by the Mutual Funds Association of Pakistan (MUFAP). These include Al Baraka Bank (Pakistan) Ltd, Bank of Khyber, and MCB Islamic Bank Limited. 
Against the benchmark, the shariah-compliant income funds recorded total returns within the range of -5.37% – 13.57% for the review month.
As per the data compiled by Mettis Global, 786 Smart Fund formerly known as Dawood Income Fund stood first with a return of 13.57% against the benchmark return of 3.28% followed by Meezan Daily Income Fund (MDIP I), and Alhamra Daily Dividend Fund as they offered an annualized return of 9.68% and 9.61% respectively to their investors.
During the month, the fund size of 786 Smart Fund has increased to Rs968.38mn while, the net assets of Meezan Daily Income Fund (MDIP-I) and Alhamra Daily Dividend stood at Rs20.80bn and Rs2.72bn as of February 28, 2022.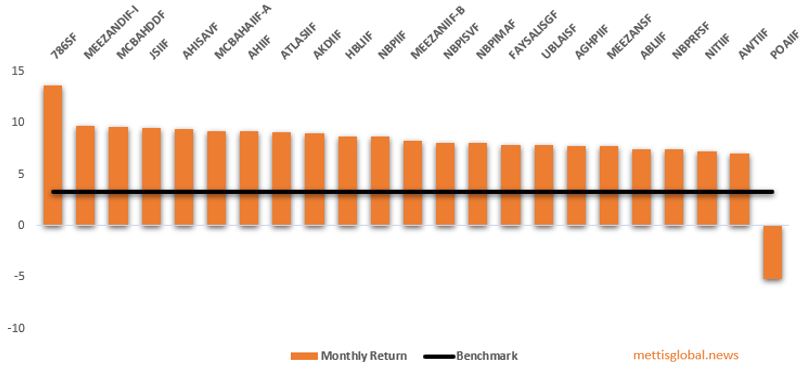 The outstanding returns are primarily based on the sound investment strategy wherein funds have to identify and invest in businesses that have foreseeable growth prospects while maintaining a strong credit profile, the funds have been prudent in their risk policies.
The market remained in positive territory for most of the month while the decline being witnessed mainly in the last week as the Ukraine crisis resulted in oil touching triple-digit while the current account deficit for January 2022 also came in much higher than earlier expected.
The market participants remained jittery on account of commodity prices rally amid the Russia-Ukraine conflict and domestic political situation. These developments overshadowed the positive events during the month including the disbursement of IMF's $1bn tranche, approval of the textile policy, and proceeds of $1bn from Sukuk issuance.
During the month, the government was also successful in passing the Oil and Gas Regulatory Authority (Amendment) and Weighted Average Cost of Gas (WACOG) Bill. Meanwhile, the government has given relief on fuel and electricity despite a sharp increase in commodity prices in the global market.
However, Pak Oman Advantage Islamic Income Fund is the only fund that recorded a negative return of 5.2% for the month of February.
Despite the tense environment on the local and international front, the Shariah Complaint Income Funds have played their role exceptionally well in terms of returns.
Furthermore, Alhamra Daily Dividend Fund and Meezan Daily Income Fund (MDIP-I) have given a dividend payout of Rs0.735 and Rs0.369 per unit.
Copyright Mettis Link News
Posted on: 2022-03-29T14:02:38+05:00
31725