June 21, 2022 (MLN): The State Bank of Pakistan (SBP) on Tuesday clarified that it has not stopped import payments and that commercial banks have sufficient dollar liquidity to execute these payments.
Taking to its Twitter handle, SBP said that it has noticed certain rumours implying that SBP reserves have dried up or are not usable, that SBP has stopped import payments, and that banks have run out of USD.
"It is clarified that as of 10th June 2022, SBP liquid foreign reserves stood at $8.99 billion. These do not include gold reserves, and are fully usable for all purposes", SBP said.
SBP further clarified that it has not stopped import payments and commercial banks have sufficient $ liquidity to execute these payments. Indeed, import payments of around $4.7 billion have been executed through the interbank market during the month so far, SBP added.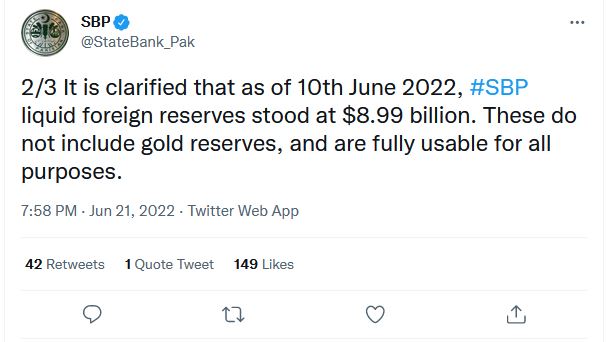 Meanwhile, it is important to note that the higher dollar demand has forced the Pakistani rupee (PKR) towards a bottomless pit today, as the currency lost 1.5 rupees to settle interbank session at PKR 211.48 per USD compared to the previous close of 209.96 per USD.
The upward march of the dollar is mainly due to its surging demand by the importers who have to pay 100% of bills at the time of the trade. According to the experts, the foreign banks are deeply concerned about the depleting foreign exchange reserves of Pakistan and its ability to pay the outstanding bills in the future.
Furthermore, news flows suggested that differences between IMF and Pakistan's government which are yet to be settled also building severe pressure on PKR.
However, any positive outcome of the discussion between Pakistan and IMF which is expected to start tonight will surely bring significant respite to PKR and stability in the interbank market.
Copyright Mettis Link News
Posted on: 2022-06-21T22:47:11+05:00
33603