October 14, 2021 (MLN): With better retention prices amid stable demand, the profitability of Pakistan's cement sector is yet again likely to surge in the first quarter of the current fiscal year.
The cement companies are all set to post strong profit growth of 84% YoY in 1QFY22.
The retention prices in the domestic market, a key driver of earnings growth, are likely to outweigh the rising international coal prices as the aggregate revenue of seven cement companies is expected to grow by 18% YoY to reach Rs58 billion in the said period. This would increase gross margins by 1.9ppt YoY in 1QFY22, as per a preview report by Foundation Securities (FSL).
During this outgoing quarter, coal prices in global markets have been witnessing breakneck rallies as they soared by an average of 148% YoY in the backdrop of lower inventory in China/India, freezing of coal export licenses in Indonesia, supply chain issues post COVID outbreak coupled with inclement weather.
Meanwhile, local cement uptake of the commodity during July-September 2021 increased by 3.92% to 11.279 million tons from 10.853 million tons during July-September 2020. However, exports during the same period declined by a massive 43.64% to 1.546 million tons from 2.743 million tons during July-September 2020.
The research, however, on a sequential basis underlined that the profitability of the sector is anticipated to decline by around 8% QoQ on the back of higher power cost amid a 34% QoQ surge in international coal prices. It is worth mentioning that cement companies remained unable to fully pass on the impact of higher fuel/power cost on a sequential basis due to weak demand.
As per the projections put forward in the report, CHCC's consolidated earnings would grow by 161% YoY to Rs4.2/share in 1QFY22. This increase in earnings may be attributable to a 3% YoY increase in despatches amid a 37% YoY upsurge in cement retention prices. On a QoQ basis, the company is expected to post a decline of 18%.
Pioneer is likely to see a turnaround and clock in at Rs2.4/sh as compared to losses in 1QFY21. The rise in earnings is on the back of a 6% YoY jump in dispatches. The brokerage house expects DGKC to post EPS of Rs1.6 in 1QFY22. The report noted that a further increase in DGKC profitability would come from better cement retention prices and dividend income from portfolio companies.
LUCK and FCCL are expected to post a sequential increase in profitability in 1QFY22 as compared to a sequential decline in FSL universe profitability. LUCK's profitability would increase due to the better net cash position of the company and dividend income from portfolio companies.
Furthermore, LUCK/FCCL dispatches are expected to decrease/increase by 7%/22% YoY in 1QFY22.
Moreover, KOHC profitability would increase by 57% YoY in 1QFY22 due to 41% YoY higher retention prices. ACPL would post a 71% YoY decline in profitability in 1QFY22 due to a 62% YoY decline in exports given higher freight charges and a decline in export realized prices, the report projected.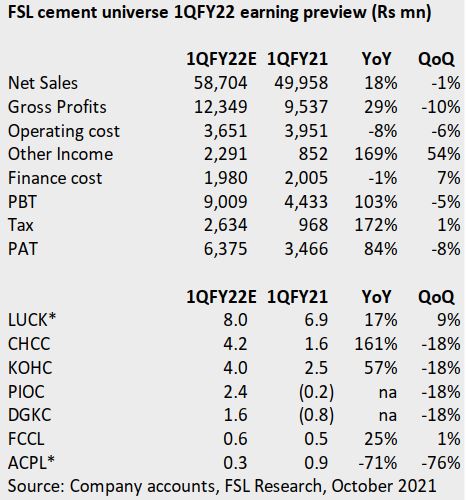 The sample cement companies of the report are expected to remain under pressure given the company's inability to completely pass on the impact of rising fuel/power costs. However, companies would benefit from favorable Gov't policies, a continuous increase in consumer housing finance and increased demand from the public sector due to early disbursement of PSDP, Usman Arif, Analyst at FSL said.
The high coal price and PKR depreciation remain a challenge for the profitability of the Pakistani cement sector.
As per the industry sources, Cement manufacturers are expected to increase cement prices by Rs25 to Rs30 per bag of 50kg to absorb the impact of Rupee depreciation and high coal prices.
Currently, the cement price is ranging from Rs670 to Rs710 per bag.
The growing trend in coal prices is denting cement companies' profitability as they are using coal as fuel in the manufacturing of cement.
Currently, FOB coal price stands at around US$247 per ton, Ocean freight also increased to US$30 per ton from US$11 per ton, while C & F coal price is around US$277 per ton.
Copyright Mettis Link News
Posted on: 2021-10-14T16:31:26+05:00
27454