January 14, 2022 (MLN): Amid higher than anticipated demand for Alto coupled with a declining trend in its price, Pak Suzuki Motor Company (PSMC), the largest auto manufacturer in Pakistan, is expected to continue its strong volumetric momentum in 2021 and 2022.
Besides, the company has also managed to claw its way back in terms of its debt levels which had been a drag on the company earnings. Now, it holds a sizeable cash balance of Rs31 billion which is expected to provide a cushion to its bottom line.
To recall, the company had earned a net profit of Rs2.19billion during the period of January- September 2021 compared to a net loss of Rs2.60bn in the same period last year due to a healthy recovery in sales volume as it improved by 128% from 38,815 units to 88,594 units, outperforming industry trend by more than 28%, the official document of the company stated.
Going by the research report of JS Global, the company is likely to post an EPS of Rs36.66 for CY22 while it expects a gradual correction in the margin from 5.7% to 6.4% during CY22-CY25 as the commodity cycle reverses and sale volume moves towards recovery.
The government had announced a number of tax relief measures in the federal budget FY22, focusing on the segment less than 1,000cc through FED and sales tax cuts, however, in the recent mini-budget, it has reduced sales tax relief (12.5% as against 17%) for 850cc-1,000cc was announced in early June 2021. This excludes vehicles such as Cultus/WagonR/ Picanto leaving Alto as the prime beneficiary in the lower than 1,000cc segment. Hence, the company is least impacted by evolving tax policy on autos, Wasil Zaman, Research Analyst at JS Global said.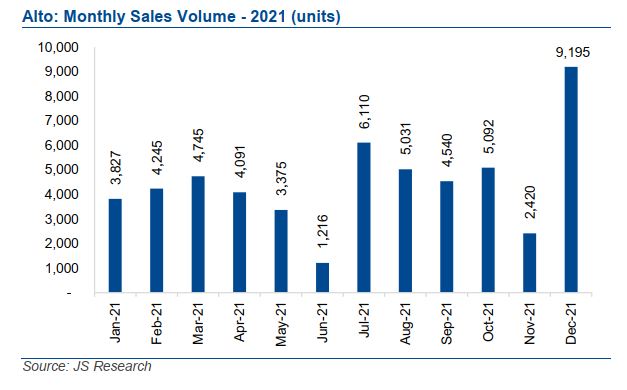 Meanwhile, the research highlighted that the industry volumes are expected to remain under pressure going into CY22 on the back of price increase by automakers in Nov-2021, rising interest rates that negatively impact auto financing demand and imposition of taxes in the mini-budget leading to another round of price hikes by the automakers.
Copyright Mettis Link News
Posted on: 2022-01-14T10:01:22+05:00
30187