August 16, 2022 (MLN): The Indus Motor Company Limited (PSX: INDU) has reduced prices for all completely knocked down (CKD) variants following the rupee's appreciation against the dollar, the notice issued by the company said yesterday.
"As PKR has appreciated against USD during the last few days, it has made it possible for IMC to pass on the favorable forex impact to its customers," read the notice.
The company has decreased prices ranging from Rs260,000 to Rs1,140,000.
"These prices are subject to change and prices prevailing at the time of delivery shall continue to be applicable on all future orders."
The prices of Corolla variants have been decreased within a range of Rs330,000 to Rs440,000. The revised prices are given below: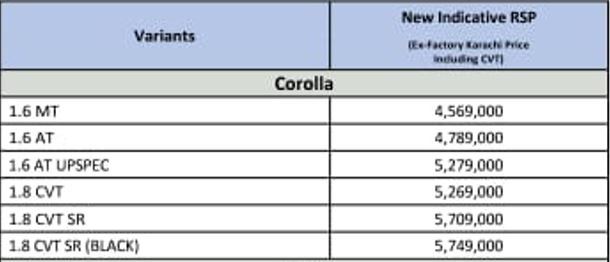 The next is the Toyota Yaris which comes in six variants and has also faced a price reduction within a range of Rs260,000 to Rs310,000. The revised prices are as follows:

While the revised prices of Toyota Fortuner have been decreased by up to Rs1,140,000. The new prices for its Fortuner lineup are as follows:

The latest data from the Pakistan Automotive Manufacturers Association (PAMA) showed that INDU sales declined by 65% YoY and 62% MoM to 2,375 units in July 2022, mainly due to PKR depreciation, higher interest rates, measures taken by the regulators to curb auto imports and cost-led price hikes.
Posted on:2022-08-16T10:23:19+05:00
34607