February 07, 2022 (MLN): Foreign exchange inflows through Roshan Digital Account (RDA) reached $3.38 billion in January 2022 since its launch in September 2020, the latest data released by the State Bank of Pakistan showed.
Of $3.38bn, around 68.6% or $2.32bn was invested in high-return Naya Pakistan Certificates (NPCs) during seventeen months due to increased profit rates being offered on the said certificates. Meanwhile, a small part of the $34 million investment has been observed in the equity market.
Meanwhile, non-residents Pakistanis (NRPs) get a profit rate of 5.5% on three-month, 6% on six-month, and 6.5% on 12-month dollar-denominated NPCs. For three- and five-year certificates, the return is 6.75% and 7% respectively.
The profit rates on local currency-denominated certificates vary from 9.5% to 11% over different tenors.
So far, 342,611 accounts have been opened from around 175 counties across different Pakistani banks.
In the month of January alone, the overseas Pakistanis deposited $222mn into RDA, indicating the increasing confidence of NRPs.
Since the start of the RDA, a banking facility for Pakistani abroad, the government had made a number of decisions to make the scheme more attractive by reducing the tax compliance costs. Further, the government has made the taxation system easy, convenient, and hassle-free for NRPs to open and operate these accounts without being physically present in the country.
It is pertinent to note that the funds in these accounts can be fully repatriated without the prior approval of the SBP.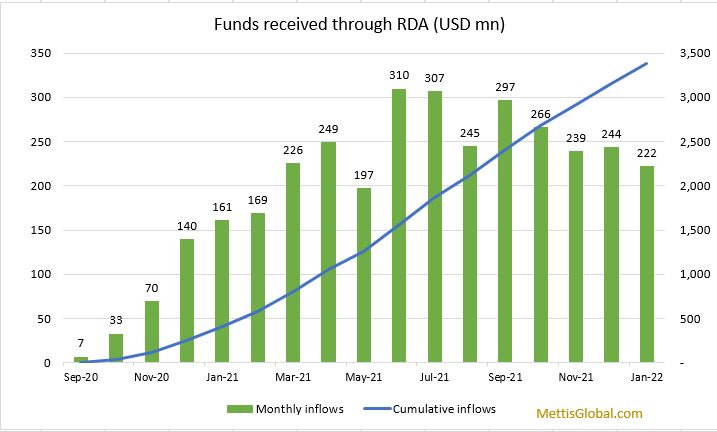 Copyright Mettis Link News
Posted on: 2022-02-07T11:05:15+05:00
30649